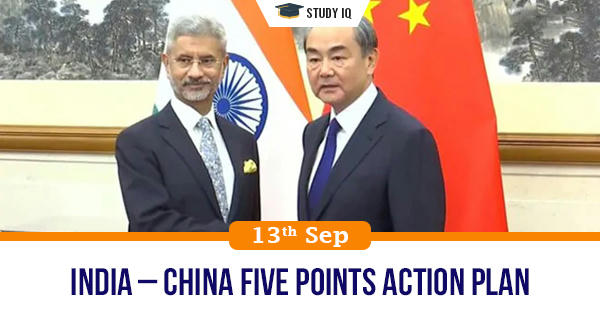 India – China five points action plan
Date: 13 September 2020
Tags: Miscellaneous
Issue
The Foreign Ministers of India and China, arrived at a 'Five Points' agreement to reduce the prevailing tension on the Ladakh border.
Background
The process of dialogue between the nations is vital especially when the two are neighbours with strained relations.
Details
It is in keeping with the Chinese policy of 'talking and fighting simultaneously'. Besides, it also lent credence to the role of Moscow in setting up the stage for the talks. Some experts have termed these talks as stepping back from the brink of war which it is not.

The genesis of the current stand-off was the aggression undertaken by the PLA in the form of incursions by the People's Liberation Army (PLA). Given the scale, extent, and timing, the operation was well planned at the highest level.

The conflict situation consists of actions such as building fortifications, clashes between patrolling parties, laying of mines, air intrusions alongside certain provocative political actions.

India's counteraction at Chushul by way of the occupation of Kailash Range on August 29-30 took the escalation to a higher level, but well below the threshold of conflict.

The de-escalation process starts with gradual disengagement of troops alongside the dismantling of war-waging infrastructure, pulling back, and finally withdrawal to the designated locations.
Five points action plan
• The 1993 'Maintenance of Peace and Tranquility Agreement' forms the basis of all followup agreements.
• 1996 'Confidence Building Measures' denounced the use of force
• 2005 'Standard Operating Procedures' and patrolling modalities.
• 2012 'Process of Consultation and Cooperation'
• 2013 'Border Cooperation Agreement', signed as a sequel to Depsang intrusion by PLA