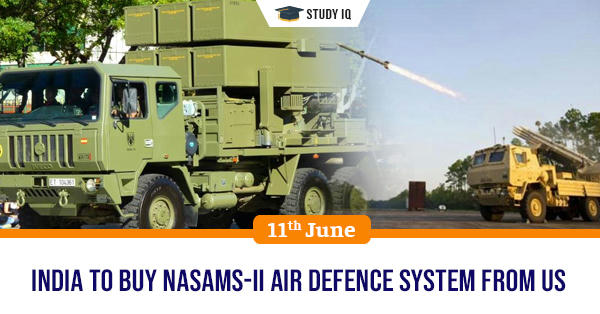 India to buy NASAMS-II air defence system from US
Date: 11 June 2019
Tags: Defence & Security
India will soon buy NASAMS-II (National Advanced Surface to Air Missile System-II) air defence system from United States. It will offer integrated air and missile defence systems and will be used along with indigenous, Russian (S-400 Triumf) and Israeli systems for creating multi-layered missile shield over National Capital Territory of Delhi (NCT) against aerial threats ranging from drones to ballistic missiles.
US is likely to send final draft of letter of acceptance for sale of NASAMS-II to India by July-August. This deal is likely to cost India Rs 6,000 crore or almost $1 billion. Once it is signed, deliveries will take place in two to four years.
About NASAMS-II Air Defence system
It is upgraded version of NASAMS developed by Raytheon in partnership with KONGSBERG Defence and Aerospace of Norway. It has been operational since 2007.

It has new 12 missile launchers coupled with 3D mobile surveillance radars for quicker reaction. It is highly adaptable mid-range solution for any operational air defence requirement.

It provides tailorable, state-of-the-art defence system by enhancing ability to quickly identify, engage and destroy current and evolving enemy aircraft, emerging cruise missile threats or UAVs.

It incorporates 3D Sentinel radars, short and medium-range missiles, fire-distribution centers, launchers and command-and-control units to quickly detect, track and shoot down multiple airborne threats.

It is currently used as part of US's air defence network for guarding capital city Washington DC. It also has been deployed in several NATO countries.
Significance for India
It will help India to protect air route also to prevent 9/11-kind of attacks. It will also complement India's other systems such as medium and long-range surface-to-air missile (SAM) systems under procurement. With this, India will join selected league of nations including US, Israel and Russia etc. having their own missile defence systems to protect their national capitals.
India's Multi-tiered air defence network
NASAMS will be combination of different weapons like surface-to-air missiles, gun systems and AIM-120C-7 AMRAAMs (advanced medium-range air-to-air missiles). It will serve as innermost layer of air defence. The second layer will be protected by mobile S-400 systems purchased from Russia. The outermost layer will be protected by DRDO-developed ballistic missile defence system. The outermost layer will be protected by Barak-8 medium-range surface-to-air missile systems, jointly developed by the DRDO and Israeli Aerospace Industries.