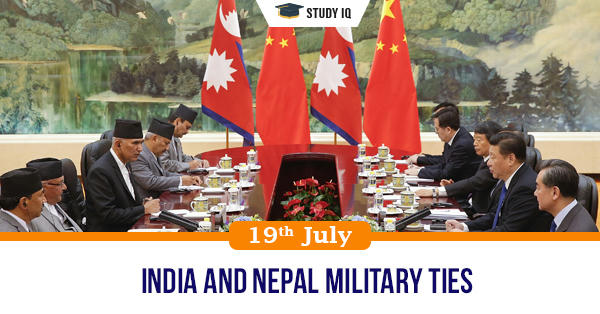 India and Nepal military ties
Date: 19 July 2020
Tags: Miscellaneous
Issue
On July 10, a soldier from Nepal serving in the Ghurkha regiment, was killed in cross-border firing along the Line of Control in the Nowshera sector of Jammu. This comes amidst a strain in Indo-Nepali ties.
Background
The soldier's supreme sacrifice is a reminder about the strong ties between the Indian and Nepalese armed forces. Soldiers from Nepal form a significant part of the Indian Army's legendary Ghurkha regiment.
Details
India's military connection with the Himalayan country goes back to the reign of Maharaja Ranjit Singh whose army in Lahore enlisted Nepalese soldiers called Lahure or soldiers of fortune.

British India raised the first battalion of the Ghurkha Regiment as the Nasiri regiment on April 24, 1815. By the time the First World War started, there were 10 Ghurkha regiments in the British Indian Army.

When India got freedom, these regiments were divided between the British and Indian armies as per the Britain–India–Nepal Tripartite Agreement signed in November 1947.

Nepalis can join the Indian Army, both as a jawan and as an officer. A citizen of Nepal can take the National Defence Academy or Combined Defence Services exams and join the Indian Army as an officer.

The Nepalese army also sends its officers for training to India's military academies and combat colleges. The Ghurkha regiments, which have 35 battalions, recruit a large number of troops from Nepal.

Nepali soldiers enjoy the same benefits as the India troops both during service and after retirement. They get the same medical facilities as the Indian soldiers, and often medical teams from the Indian Army tour Nepal.

Unlike the British, who started giving the Nepalese soldiers pension only a few years ago, the Indian Army has never discriminated against the Nepalese soldiers, who can avail of healthcare facilities in India as well. The Indian Army also runs welfare projects in Nepal villages, including small water and power projects.

There is a convention that dates back to 1972 when then Field Marshal Sam Manekshaw, a Ghurkha regiment officer was made the honorary chief of the Nepalese army. Ever since the Army chief of India is the honorary chief of the Nepalese army and vice-versa.