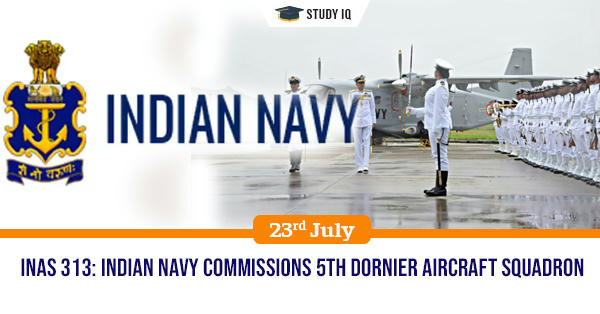 INAS 313: Indian Navy commissions 5th Dornier Aircraft Squadron
Date: 23 July 2019
Tags: Defence & Security
5th Dornier Aircraft Squadron of Indian Navy-Indian Naval Air Squadron (INAS) 313 was commissioned at Naval Air Enclave, Meenambakkam, Chennai. The name of this squadron is 'Sea Eagle'. With commissioning of INAS 313, Tamil Nadu now has three naval air bases i.e. highest number for any Coastal State. The two other existing air bases in Tamil Nadu are INS Rajali (Arakkonam) and INS Parundu (Ramnad).
About INAS 313
The squadron derives its name 'Sea Eagle' i.e. from bird of prey family Accipitridae. Its insignia (emblem) depicts- Greater Spotted Eagle searching over vast blue and White Sea waves, which symbolises the envisaged role of squadron.
It has been tasked to patrol Indian Ocean Region (IOR) and enhance maritime domain awareness and strengthen Indian Navy's presence in Bay of Bengal and the southern region. It will have 12 crew officers and 44 sailors.
It will operate two Hindustan Aeronautical Limited (HAL)-built Dornier aircraft from Chennai international airport alongside Indian Coast Guard air station. In near future, advanced light helicopters will be also deployed to enhance search and rescue, and casualty evacuation capability.
Significance of INAS 313 Squadron: It will help in increasing coastal security apparatus with Indian Coast Guard simultaneously. It will augment Indian Navy's surveillance in the eastern seaboard, especially along Tamil Nadu coast. It will enable faster response to challenges at sea and would be handy while handing natural disasters.
Dornier aircraft: It is multi-role Short Range Maritime Reconnaissance (SRMR) aircraft manufactured by HAL, under license from RUAG Aerospace. It is ftted with state-of-the-art equipment. It plays variety of roles, including commuter, air taxi, utility, aircrew training, maritime surveillance, search and rescue duties. It is widely used for maritime surveillance, Search and Rescue Operations and to provide targeting data to weapon platforms.