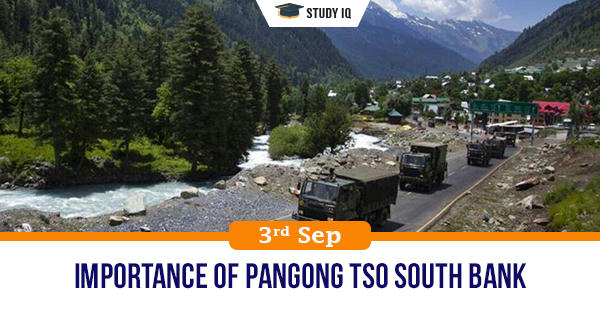 Importance of Pangong Tso south bank
Date: 03 September 2020
Tags: Miscellaneous
Issue
The Indian Army thwarted an attempt by China to change the status quo near the Line of Actual Control (LAC) by deploying its troops to a previously un-deployed area on the southern bank of the Pangong Tso Lake.
Background
While the Pangong Lake has been among the most contentious sectors in the ongoing military standoff, the activity until now had been restricted to the northern bank.
Details
Pangong Tso is an endorheic lake (landlocked) that is partly in India's Ladakh region and partly in Tibet. The name reflects the mixed heritage of the lake: Pangong in Ladakhi means extensive concavity, the word Tso is Tibetan for lake.

The Karakoram Mountain range, which crosses Tajikistan, Afghanistan, Pakistan, China, and India, ends at the north bank of Pangong Tso. Its southern bank too has high broken mountains sloping towards Spangur Lake in the south.

The lake's water is brackish, making it undrinkable. The lake freezes during the winter, allowing some vehicular movement on it as well.

Nearly two-thirds of the lake is controlled by China, with just about 45 km under Indian control. The LAC, running north-south, cuts the western part of the lake, aligned east-west.

India has traditionally had a stronger presence in the southern bank compared to the north bank, because of its proximity to areas like Chushul and Rezang La.

The area, known as the Chushul approach, is one of the few sectors that can be used as launchpads for an offensive, because of the plains.

India has occupied a more advantageous position, though still on its side of the LAC, to prevent China from any intrusions in the area.