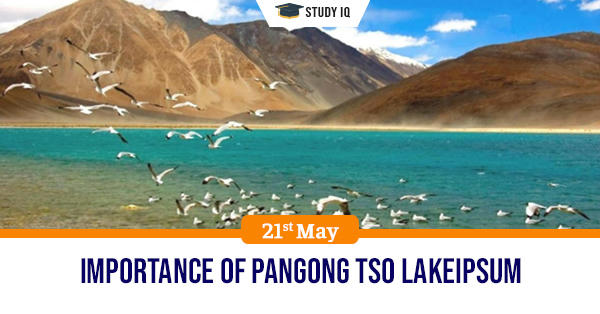 Importance of Pangong Tso lake
Date: 21 May 2020
Tags: Miscellaneous
Issue
The recent incidents at the Pangong Tso lake area between Indian and Chinese soldiers on the LAC have brought back the region in the focus.
Details
The disputed boundary between India and China, also known as the Line of Actual Control (LAC), is divided into three sectors: western, middle and eastern.

The countries disagree on the exact location of the LAC in various areas, so much so that India claims that the LAC is 3,488 km long while the Chinese believe it to be around 2,000 km long.

The two armies try and dominate by patrol to the areas up to their respective perceptions of the LAC, often bringing them into conflict and leading to incidents such as those witnessed in Naku La in Sikkim earlier this month.

The LAC mostly passes on the land, but Pangong Tso is a unique case where it passes through the water as well. The points in the water at which the Indian claim ends and Chinese claim begins are not agreed upon mutually.

Most of the clashes between the two armies occur in the disputed portion of the lake. As things stand, 45 km-long western portion of the lake is under Indian control, while the rest is under China's control.
Pangong Tso Lake
In the Ladakhi language, Pangong means extensive concavity, and Tso is lake in Tibetan.

Pangong Tso is a long narrow, deep, endorheic (landlocked) lake situated at a height of more than 14,000 ft in the Ladakh Himalayas. The western end of

Tso lies 54 km to the southeast of Leh. The 135 km-long lake sprawls over 604 sq km in the shape of a boomerang, and is 6 km wide at its broadest point.

The brackish water lake freezes over in winter, and becomes ideal for ice skating and polo. The legendary 19th century Dogra general Zorawar Singh is said to have trained his soldiers and horses on the frozen Pangong lake before invading Tibet.

By itself, the lake does not have major tactical significance. But it lies in the path of the Chushul approach, one of the main approaches that China can use for an offensive into Indian-held territory.