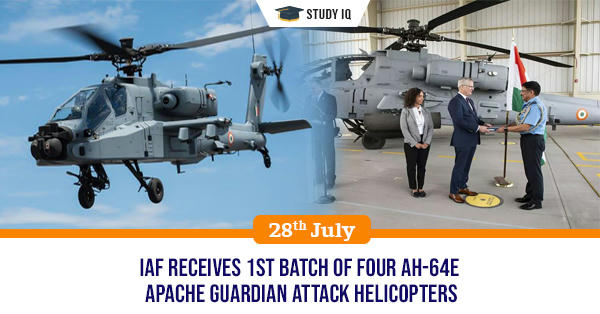 IAF receives 1st batch of four AH-64E Apache Guardian Attack helicopters
Date: 28 July 2019
Tags: Defence & Security
Indian Air Force (IAF) has received first batch of four of total 22 AH-64E Apache Guardian Attack helicopters from US aerospace major Boeing at Hindon air base in Ghaziabad, Uttar Pradesh. The batch of four Apache helicopters will be delivered soon. These eight helicopters will be the moved to Pathankot Air Force station (Punjab) for their formal induction by the IAF in September 2019. IAF had signed contract with US Government and Boeing in September 2015 for purchasing 22 Apache helicopters.
About Apache Helicopter
It is one of the most advanced multi-role combat helicopters in the world ,and is flown by the US Army.. It has advanced weapons systems and night-fighting features.

It has been developed and manufactured by aerospace giant Beoing. It has so far delivered more than 2,200 Apaches to customers around the world and India is 14th nation to select it for its military.

It is armed with stinger air-to-air missiles, Hellfire Longbow air-to-ground missiles, guns and rockets. It has joint digital operability, cognitive decision-aiding and improved survivability.

It has capability to carry out precision attacks at standoff ranges and operate in hostile airspace with threats from ground.
Significance
The addition of AH-64 E (I) helicopter in IAF is significant step towards modernisation of its helicopter fleet. It has been customized to suit IAF's future requirements and will have significant capability in mountainous terrain.
The ability of this helicopter to transmit and receive battlefield picture, to and from weapon systems through data networking makes it lethal acquisition. This attack helicopter will provide significant edge to Indian armed forces in future joint operations in support of land forces.