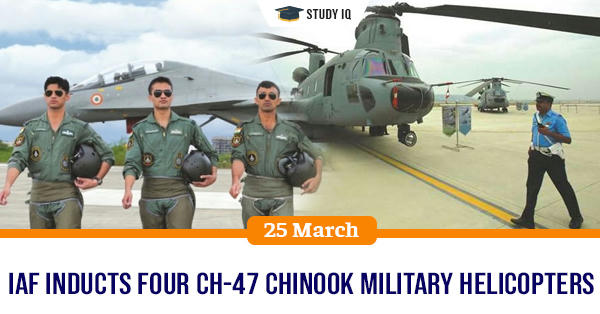 IAF inducts four CH-47 Chinook military helicopters
Date: 25 March 2019
Tags: Defence & Security
Indian AirForce (IAF) inducted first batch of four CH-47F Chinook military helicopters into iys 126 Helicopter Unit (nicknamed Featherweigts) at Chandigarh. They will be also used for deploying troops and machinery at high altitude locations with India and Pakistan.
These four helicopters are 15 Chinook helicopters IAF is purchasing from US (manufactured by Boeing) as part of Rs. 8000 crore deal signed in 2015. The entire fleet of 15 Chinooks are expected to arrive in India by 2020. The second unit of these helicopters come up at Dinjan, Assam and will fortify India's eastern border with China.
CH-47F (I) Chinook helicopter
It is an advanced multi-role, vertical lift military helicopter manufactured by US aerospace company Boeing. It is twin-engined, tandem rotor, heavy-lift helicopter.

It is named after Native American Chinook people of modern-day Washington state of US.

It has fully integrated digital cockpit management system. It possesses several means of loading various cargoes.

It has capacity to carry maximum payload capacity of 11 tonnes and 45 troops. It has an additional capacity to lift underslung load of up to 10 tonnes.

It is capable of transporting fully-equipped infantry soldiers for specialised operations. Its top speed is of 170 knots (315 km/h).

It has 24X7 all-weather operational capabilities. It is highly manoeuvrable, which makes it suitable for operating in tough, dense terrain.
Applications
IAF will be using it proving logistics support for military opearions i.e. for transporting troops, fuel, artillery and equipment on the battlefield.

Besides, it will be also used during humanitarian and disaster relief (HADR) operations for mass evacuation missions, medical evacuation, disaster relief, search and recovery, fire-fighting and civil development.

It will provide Indian armed forces with unmatched strategic airlift capability across full spectrum of combat and humanitarian missions.

It will enhance IAF's heavy-lift chopper capabilities to deliver payloads to high altitudes. It will help to lift M-777 ultra-light howitzers of the Indian armed forces.

It will also replace IAF's existing fleet of Russia made four gigantic Mi-26s transport helicopters.