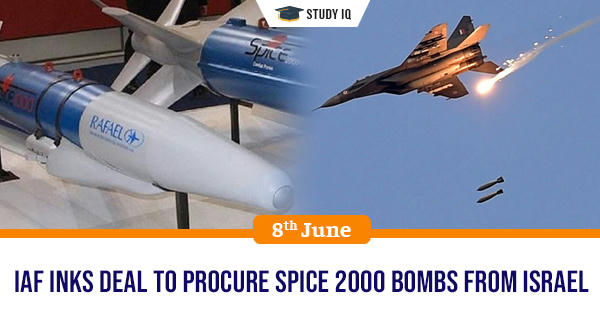 IAF inks deal to procure SPICE 2000 bombs from Israel
Date: 08 June 2019
Tags: Defence & Security
Indian Air Force (IAF) has signed deal with Israel's Rafael Advanced Defense Systems to procure batch of advance bunker buster version of SPICE 2000 guided bombs at cost of Rs 300 crores. The order for bombs has been placed under special financial powers given to armed forces by the government for emergency purchases.
SPICE 2000 Guided Bombs
It is Israeli-developed, EO/GPS-guided guidance kit for converting air-droppable unguided bombs into precision guided bombs. SPICE stands for Smart, Precise Impact, Cost-Effective. It is meant for 1,000kg bombs. It has glide range of around 60km. It is also difficult to detect by most ground-based radars. It can overcome errors in locating target, GPS jamming and reduces collateral damage. It is currently biggest conventional bomb that can be delivered by the IAF.
Balakot air strike & SPICE 2000 guided bombs
IAF had used SPICE bombs most recently in its preemptive non-military strikes on terrorist group Jaish-e-Mohammed (JeM) training camp located in Jaba hilltop site in the vicinity of Balakot, deep inside in Khyber Pakhtunkhwa province of Pakistan on February 26, 2019 by crossing international border. This strike on the JeM camp was conducted 12 days after terror group had claimed responsibility for suicide attack on CRPF convoy in Pulwama, Jammu and Kashmir in which 40 soldiers were killed.
Special Financial Powers
Following the Pulwama attack, Union Government had granted emergency powers to three services to procure weapons and military hardware to enhance their operational preparedness along border with Pakistan. Government also relaxed certain rules to cut delays in military purchase like allowing the three services to procure required weapons and equipment from a single vendor.