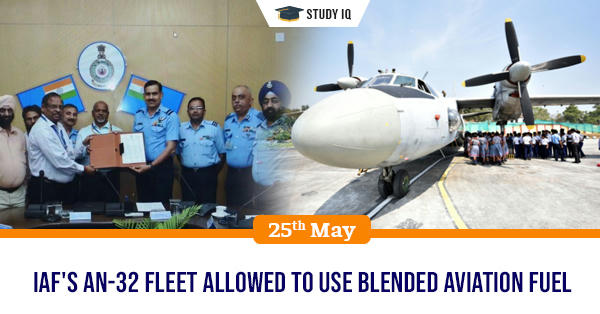 IAF's AN-32 fleet allowed to use blended aviation fuel
Date: 25 May 2019
Tags: Defence & Security
The Russian origin AN-32 aircraft of Indian Air Force (IAF) were formally fleet certified to fly on blended aviation fuel, containing up to 10% indigenous bio-jet fuel. The approval certificate was received from Centre for Military Airworthiness and Certification (CEMILAC).
This bio-aviation fuel is made from Jatropha oil sourced from Chattisgarh Biodiesel Development Authority (CBDA) and then processed at CSIR-Indian Institute of Petroleum (CSIR-IIP), Dehradun.
The recent certification is huge step in promoting 'Make in India' mission as this bio-fuel will be produced from Tree Borne Oils (TBOs) sourced from tribal areas and farmers, augmenting their income substantially.
Background
The indigenous bio-jet fuel was first produced by CSIR-IIP lab at Dehradun, Uttarakhand in 2013, but could not be tested or certified for commercial use on aircraft due to lack of test facilities in the civil aviation sector.
In July, 2018, Chief of Air Staff Air formally had announced IAF's intention to permit use of all its resources for testing and certifying the indigenous fuel. Since then, IAF has undertaken series of tests for evaluating the performance of this fuel against international standards.
Jatropha
It is drought-resistant perennial plant that can grow in marginal or poor soil. It grows quickly and can produce seeds for 50 years. In India, it is found in many parts, especially in rugged terrain and can survive with minimum inputs and easy to propagate/
It seeds contain 37% oil which be combusted as fuel without being refined. It burns with clear smoke-free flame. Its oil already has been tested successfully as fuel for simple diesel engine. Its oil also acts as insecticide.
The by-products of its seeds like press cake is good organic fertilizer. It also has medicinal properties and is used for diseases like snakebite, paralysis, cancer, piles, dropsy etc
CSIR-Indian Institute of Petroleum (CSIR-IIP)
It is a laboratory of Council of Scientific & Industrial Research (CSIR). It is based in Dehradun, Uttarakhand. It was established in 1960. It undertakes research and developmentwork in downstream sector of hydrocarbon i.e. areas of petroleum refining, natural gas, alternative fuels, petrochemicals utilization of petroleum products etc.