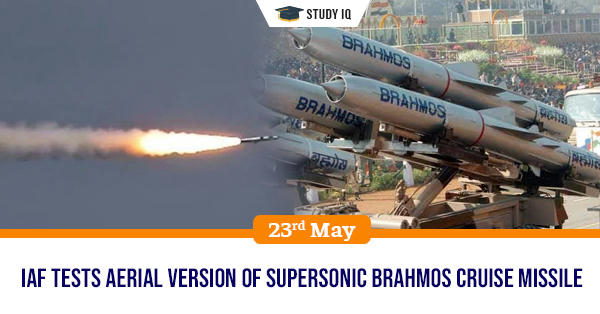 IAF tests aerial version of supersonic BrahMos cruise missile
Date: 23 May 2019
Tags: Defence & Security
Indian AirForce successfully test fired air version of BrahMos missile from its frontline Su-30 MKI fighter aircraft n the Andaman and Nicobar archipelago. This was the second test-firing of the air-launched version (air-to-surface) of BrahMos missile after the first was conducted over Bay of Bengal in November 2017. The launch from aircraft was smooth and missile followed desired trajectory before directly hitting the land target.
Note: After first test, IAF became first air force in the world to successfully fire air-launched surface attack cruise missile of this category on sea target.
Air-launched version of BrahMos missile
The air-to-surface version of this missile will significantly enhance IAF's combat capability. It will enable IAF to strike from large stand-off ranges on any target at sea or on land with pinpoint accuracy by day or night and in all weather conditions.
Integration of BrahMos on Sukhoi-30MKI: It will give IAF the desired strategic reach and constitutes a deadly weapons package as Sukhoi-30MKI fighter has cruising range of 3,200-km or combat radius of about 1,500-km without mid-air refueling.
BrahMos Missile
It is joint venture between India and Russia and named after Brahmaputra and Moscowa rivers.

It is capable of being launched from land, sea (submarines), sub-sea (ships) and air against surface (land), aerial and sea-based targets.

It is two-stage cruise missile, the first being solid and second one ramjet liquid propellant. It is self-propelled guided missile i.e. it can sustain its flight through aerodynamic lift.

It is capable of carrying warhead of 300 kgs (both conventional as well as nuclear). It operates on 'fire and forget principal' and has strike accuracy rate of 99.99

%

.

It has top supersonic speed of Mach 2.8 to 3 (roughly three times speed of sound), making it world's fastest anti-ship cruise missile in operation.

Its range was initially capped at 290 km under obligations of Missile Technology Control Regime (MTCR). But, now it has been extended beyond 450 km after India's entry into MTCR.

Its land and sea variants are already operational with Indian Army and Navy and air-launched version is under development.

Indian Army is now inducting 4th BrahMos Regiment, which will be missile's Block-III version that has steep dive, trajectory manoeuver and top-attack capabilities.

Indian Navy has deployed the BrahMos missiles on over 10 frontline warships.

IAF, in turn, has inducted two squadrons of land-launch missiles and is waiting for induction of air-launched version.