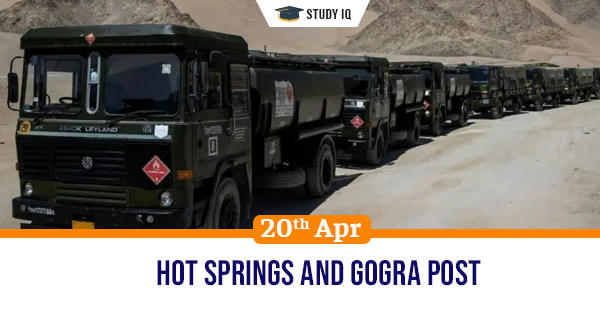 Hot springs and Gogra post
Date: 20 April 2021
Tags: Miscellaneous
Issue
China has refused to accept a ceasefire deal at Patrolling Point 15 (PP15) in Hot Springs, and PP17A near Gogra Post.
Background
India has been trying to de-escalate tensions with China in friction points. However, China has been reluctant to accept new deal.
Details
China had diverted its troops from Tibetan plateau to Line of Actual Control (LAC) in eastern Ladakh. This had given rise to a standoff.

Other friction points included Galwan Valley and the north bank of Pangong Tso. Troops of China had crossed LAC to enter Indian Territory.
Location
Both Hot springs and Gogra post are located near the Chang Chenmo river in the Galwan sub-sector of the LAC in eastern Ladakh.

Hot springs is located north of the Chang Chenmo river. Gogra post is east of the point where the river takes a hairpin bend.
Significance of the region
The area lies near to Kongka Pass, which China considers as the international boundary between India and itself.
Patrol points
Indian army has been given certain areas that have to be patrolled by its troops in order to keep them under control.

These points are known as patrolling points, or PPs, and are recommended by the China Study Group (CSG). China Study Group is the highest decision-making body on China.

This is a significant exercise to ascertain India's hold over the areas as the boundary between India and China is not officially decided.