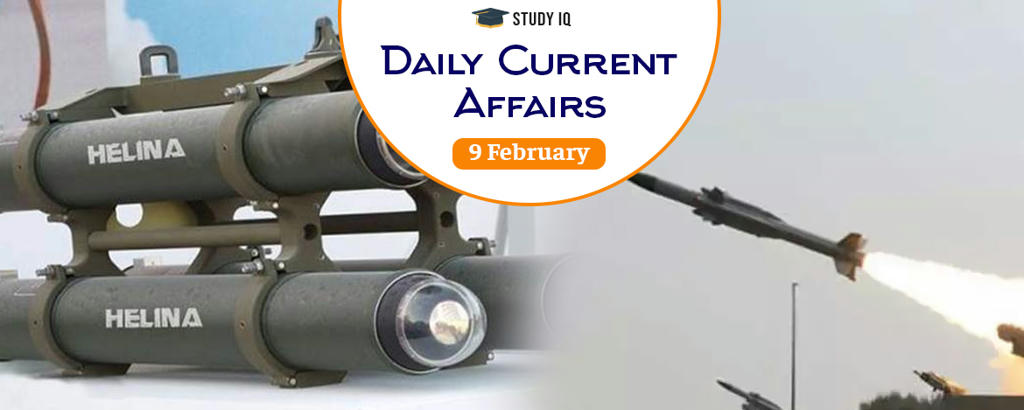 HeliNa: Anti-tank missile successfully test-fired
Date: 09 February 2019
Tags: Miscellaneous
Indigenously developed helicopter-launched anti-tank guided missileHeliNa was successfully test fired. It was fired by missile handling unit of Hindustan Aeronautics Limited (HAL) from ground launcher at Launching Complex-III of Integrated Test Range (ITR) in Balasore off Odisha coast.
About Test
This missile for first time was test fired with modified version having close to zero error probability. This paves way for its actual launch from helicopter. Earlier, several trials of this third generation 'fire and forget' missile was conducted from both ITR and Pokhran firing range.
HeliNa Missile
It is air-to-land version or helicopter-launched version of Nag anti-tank guided missile (ATGM), one of five missile systems developed by DRDO under Integrated Guided Missile Development Programme.

Named after HEL of helicopter and NA of Nag (Hindi for cobra). It is manufactured by country's sole state-owned missile producer Bharat Dynamics Limited.

It is one of the most-advanced anti-tank weapons in the world with hit range of 7-8 km. It has been designed and developed to be fired from helicopter. Nag missile has maximum range of 4 km.

It has been designed primarily to destroy modern main battle tanks and other heavily armoured targets.

It can be launched from twin-tube stub wing-mounted launchers on board armed light combat helicopters and advanced light helicopters.

It works on "fire and forget" principle and operates in Lock on Before Launch mode, which helps to extend its strike range.

It is fitted with highly advanced Imaging Infrared Radar (IIR) seeker along with integrated avionics. This technology is possessed by very few countries in the world including India.

Once inducted in Armed forces, it will be integrated with weaponised version of Advanced Light Helicopter (ALH) Dhruv, HAL built combat helicopter Rudra and Light Combat Helicopter (LCH).