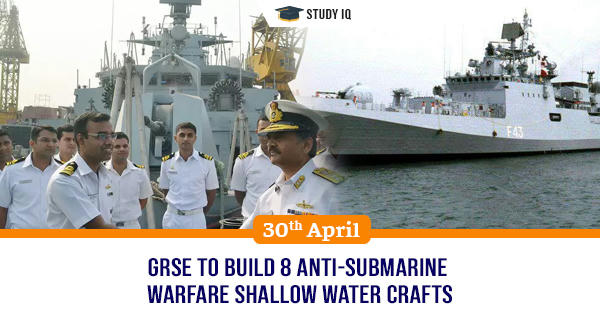 GRSE to build 8 Anti-Submarine Warfare Shallow Water Crafts
Date: 30 April 2019
Tags: Defence & Security
Union Ministry of Defence has awarded Rs. 6,000 crore contract to Kolkata based Garden Reach Shipbuilders & Engineers Limited (GRSE) to build eight Anti-Submarine Warfare Shallow Water Crafts (ASWSWCs) for Indian Navy. Under this contract, GRSE will deliver first vessel within 42 months i.e. by October 2022, after that it deliver two more ASWSWCs annually, completing delivery of all eight vessels by April 2026.
These ASWSWCs will enhance capability of Indian Navyto detect enemy submarines in Arabian Sea, where unusually shallow sea bed reflects sonar signals emitted by submarine hunting vessels. It will remove the gap in masking signals reflected off enemy submarine and sea bed, which was making earlier for Indian Navy difficult to detect submarines.
Anti-Submarine Warfare Shallow Water Crafts (ASWSWC)
They will be designed for deep displacement of 750 tonnes. It has speed of 25 knots and complement of 57.

The design and construction of these ships will be as per Classification Society Rules and Naval Ship Regulations. They will conform to latest Marine Pollution Standards of International Maritime Organization (IMO) and Safety of Life at Sea (SOLAS).

Features:

These ASWSWCs will be equipped with highly advanced state-of-the-art integrated platform management systems including Propulsion Machinery, Power Generation, Auxiliary Machinery and Distribution Machinery and Damage Control Machinery, etc.

They will be also equipped with sophisticated sonar with algorithm that differentiates signals reflected off enemy submarine from those bouncing off the sea bed.

These vessels will also have ability to sprint fast for short bursts in order to maintain contact with a submarine it detects.

They also have sophisticated data link networks for sharing information about enemy submarines with friendly anti-submarine warships and aircraft.

Functions:

They will be capable of full-scale sub surface surveillance of coastal waters, search and attack unit (SAU) and Coordinated ASW operations with aircraft. In addition, they also have capability to interdict/ destroy sub surface targets in coastal waters. They can also be deployed for Search and Rescue during day and night in coastal areas. In their secondary role, these are also capable to prosecute intruding aircraft and lay mines in sea bed.