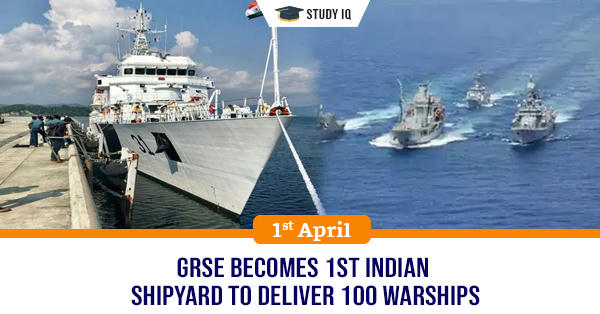 GRSE becomes 1st Indian Shipyard to deliver 100 Warships
Date: 01 April 2019
Tags: Defence & Security
Garden Reach Shipbuilders & Engineers (GRSE) became the first shipyard in the country to deliver 100 warships. Its 100th warship landing craft utility (LCU) L-56 was recently handed over to Indian Navy. 100 warships built by GRSE so far range from anti-submarine warfare corvettes to advanced frigates to fleet tankers, fast attack crafts, etc for Indian Navy and Indian Coast Guard.
Garden Reach Shipbuilders & Engineers (GRSE)
It is defence PSU having Miniratna status functioning under Union Ministry of Defence.

It is one of India's leading state-owned shipyards. It is located in Kolkata, West Bengal.

It builds and repairs commercial and naval vessels for Indian Navy and Coast Gaurd. It also exports ships to friendly countries.

It was established in 1884 as small privately owned company on Hooghly River in Kolkata. It was nationalised by Government in 1960.

The first vessel delivered to the Navy was INS Ajay in 1961. It was seaward defence boat. Since then it has played key role in national security of country.

It has built all kinds of vessels ranging from 5-tonne fast-interceptor crafts to 24,600-tonne fleet tanker INS Aditya,

Currently it is building three large stealth frigates for Indian Navy with latest gas-turbine propulsion systems under P17A Project.