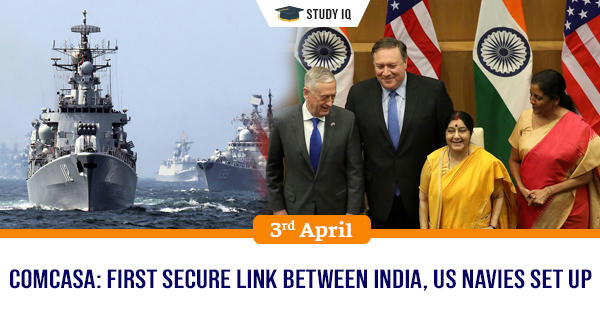 COMCASA: First secure link between India, US navies set up
Date: 03 April 2019
Tags: Defence & Security
India and United States (US) have set up first ever secure communication link between naval headquarters in New Delhi and US Central as well as Pacific Naval Commands. This link has been set up under landmark Indo-US Communications, Compatibility & Security Agreement (COMCASA) signed by both countries in September 2018. US also has activated Selective Availability Anti-Spoofing Module GPS system in some of C-130 and C-17 transport aircrafts which India had bought from it as result of implementation of COMCASA.
Significance
It is major boost to India's defence diplomacy. These two upgrades will allow both sides to share real-time operational intelligence.

It will enable both sides to operate on same communication systems, thus helping build interoperable environment for militaries.

The establishment of secure active link between two navies is significant step forward as India will gain access to latest US naval intelligence besides conducting joint operations in the future.
Prior to signing of COMCASA, US could not part with highly coded communication gear with military platforms it had sold to India. As a result, India had to depend on less secure systems on high-end platforms like C-130Js and tP8I maritime surveillance aircraft, among others bought from US.
Communications Compatibility and Security Agreement (COMCASA)
It

is one of the four foundational defence cooperation agreements that guides US high technology cooperation in defence sector with other countries.

It is tweaked version of Communication and Information on Security Memorandum of Agreement (CISMOA) signed by with other countries to reflect India-specific nature.

It was signed in September 2018 signed at end of inaugural India-US '2+2' Ministerial Dialogue held in New Delhi. It will be valid for 10 years.

It facilitates use and installation of high-end secured communication equipment on military platforms being sold to India by US to fully exploit their potential.

It provides legal framework for transfer of communication security equipment from US to India.

This will facilitate interoperability between armed forces of both countries and potentially with other militaries that use US-origin systems for secure data links.

Interoperability under this pact means that there will be access to encrypted and secret technologies or communications.

US has assured India that it will not share data from Indian platforms with another country, nor access this data without prior permission. Besides choice to upgrade under it will rest with India and will not be wholly determined by US.