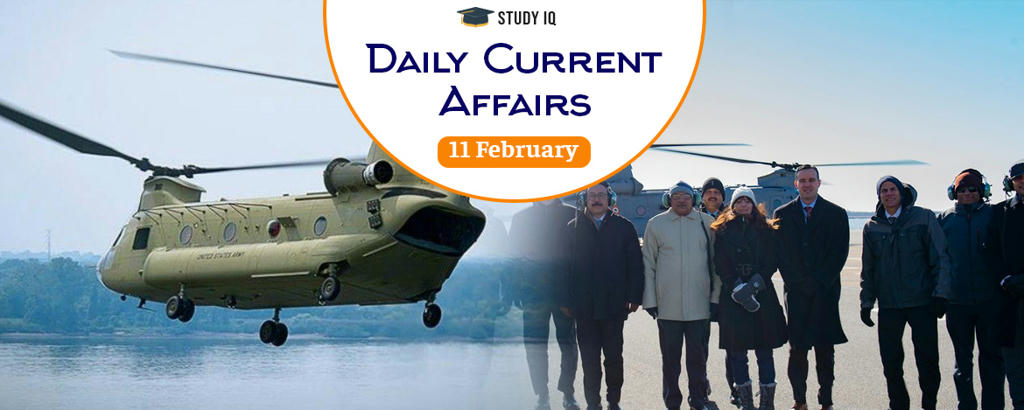 IAF receives first batch of Chinook Helicopters
Date: 11 February 2019
Tags: Miscellaneous
US aerospace major Boeing delivered first batch of four CH-47F (I) Chinook military helicopters to Indian Air Force (IAF) at Mundra port, Gujarat. These helicopters will be assembled in Gujarat and will be ferried to Chandigarh, where they will be formally inducted into IAF.
IAF currently has place order of 15 Chinook helicopters of which four are delivered. In 2015, Cabinet Committee on Security (CSS) chaired by Prime Minister had approved US $3.1-billion order for 22 AH-64E Apache Longbow attack helicopters (also manufactured by Boeing) and 15 Chinooks to scale up IAF's capabilities.
CH-47F (I) Chinook helicopter
It is an advanced multi-mission military helicopter manufactured by US aerospace company Boeing. It is twin-engined, tandem rotor, heavy-lift helicopter.

It is named after Native American Chinook people of modern-day Washington state of US. It possesses several means of loading various cargoes. Its top speed is of 170 knots (315 km/h).

IAF will be using it proving logistics support i.e. for transporting troops, fuel, artillery and equipment.

It will be also used during humanitarian and disaster relief (HADR) operations for mass evacuation missions.

It will provide Indian armed forces with unmatched strategic airlift capability across full spectrum of combat and humanitarian missions.

It will enhance IAF's heavy-lift chopper capabilities to deliver payloads to high altitudes. It will also replace IAF's existing fleet of Russia made four gigantic Mi-26s transport helicopters.
India-US defence ties
US is India's second largest arms supplier after Russia. Since 2008, India has bought or ordered military equipment worth $15 billion from US.

It includes C-130J special operations planes, C-17 transport aircraft, P-8I submarine hunter planes, Harpoon missiles, Apache and Chinook helicopters and M777 lightweight howitzers.