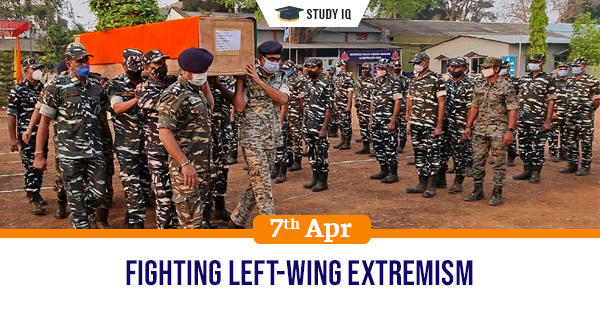 Fighting left-wing extremism
Date: 07 April 2021
Tags: Miscellaneous
Issue
About 22 security forces were martyred during an encounter with Naxals in Chhattisgarh's Bijapur district.
Background
Chhattisgarh is one of the worst Naxal affected district in the country with the Dantewada-Sukma-Bijapur claiming large number of lives.
Details
Majority of states have tackled the problem of Naxalism but still Chhattisgarh has struggled to control its growth.

There is a belief that Naxalism has been tackled in those states where state police have taken lead of the operation.

The decline of Naxalism in Andhra Pradesh is largely because of state's Greyhounds. Maharashtra's C60 force has driven away Naxals to the border areas.
Maoist violence
The central government understood the threat of Maoist violence in 2004 when it declared them greatest internal security threat for the country.
Challenges in Chhattisgarh
The challenges in Chhattisgarh increased when Maoists began escaping Andhra Pradesh and Maharashtra. They started to gather in deep areas of the state.

In comparison, the movement in Chhattisgarh has more public support as they branded it as movement of tribals against the state.

The region is dotted with backwardness with no schools, roads or hospitals. There is low intelligence gathering.

The role of state police is very less. This has taken away the advantage of local language and culture that can help counter Maoists.