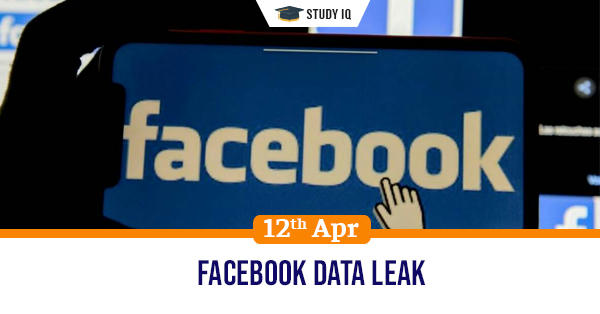 Facebook data leak
Date: 12 April 2021
Tags: Miscellaneous
Issue
A recent analysis has found that personal information of large number Facebook users from 106 countries has been leaked online.
Background
Data leak from Facebook is not new and has been reported numerous times over the past years.
Details
A vulnerability feature in Facebook allowed users to access phone number linked to a account, which was being sold for free.

The most controversial issue of data leak was the Cambridge Analytica scandal in 2018 in which a political consulting and strategic communications firm had indulged in collecting personal information of users through a personality quiz app.

The leaked data includes personal information such as names, Facebook ID, email addresses, names of workplaces, date of birth, addresses, phone numbers, date of account creation, relationship status and bio.

Experts have said that the data was not stolen by illegally hacking into its system but by scraping its platform by making use of vulnerability.

Scraping is technique based on using automated software to collect public information from the internet.
Facebook response
Facebook had already identified the vulnerability in Instagram's contact imports feature that allowed access to personal information. It had also publicly acknowledged the breach.
Effects of the leak
Use of the leaked data includes phishing attacks, sending spam messages, making marketing calls and indulging in targeted advertising.

The numbers can be used for fraud especially in digital transactions where phone numbers are needed for obtaining OTP.

The phone numbers of high-profile individuals such as celebrities, politicians and other people is available for public view.