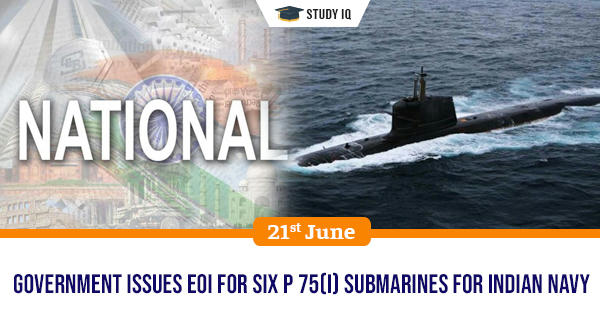 Government issues EoI for six P 75(i) Submarines for Indian Navy
Date: 21 June 2019
Tags: Defence & Security
Union Ministry of Defence has issued Expression of Interest (EoI) for shortlisting of potential Indian Strategic Partners (SPs) for "Construction of six Conventional Submarines" for P-75(I) Project of the Indian Navy. The project cost is about Rs 45,000 Crores. It will be second project being undertaken under the latest Strategic Partnership (SP) Model, first being the procurement of 111 Naval Utility Helicopters (NUH).
Selection Process
All six submarines under this project will be built in India byselected Indian Strategic Partner (SP) in collaboration with selected Original Equipment Manufacturer (OEM). In addition, Indian Navy also has option to manufacture six more submarines under the project
Indian companies will be shortlisted based on their capability for integration of system of systems, expertise in shipbuilding domain and financial strength. The OEMs will be shortlisted primarily based on their submarine design meeting Indian Navy's Qualitative Requirements and qualifying Transfer of Technology and Indigenous Content (IC) criteria.
Signifiance of this project
It will provide major boost to indigenous design and construction capability of submarines in India and help in bringing in latest submarine design and technologies.

It will aid in boosting core submarine/ship building industry and also greatly enhance industrial/manufacturing sector, especially the MSMEs by development of industrial eco-system for manufacture of associated systems/equipment/spares related to submarines.

It will progressively help to build indigenous capabilities in private sector to design, develop and manufacture complex weapon systems for future needs of Armed Forces.

It is important step towards meeting broader national objectives, encouraging self reliance and aligning the defence sector with 'Make in India' initiative of Government.
Project-75 India
It is follow-on of Project 75 Kalvari-class or Scorpene class submarines for Indian Navy. Under it, Indian Navy intends to acquire 6 new-generation conventional stealth submarines.

These submarines will be constructed in Indian shipyards under strategic partnership model between foreign vendor and its Indian partner.

They will be almost 50% bigger than under-construction Scorpene class submarines being built at the Mazagon Dockyards Limited in Mumbai.

They will have advanced stealth capabilities such as greater ability to suppress noise and acoustic signatures. They will also be outfitted with Air-independent propulsion (AIP) fuel cells which can significantly increase submerged endurance and operational range.

They will also have advanced detection range and combat management system besides better sensors for optimum performance. Their weapon system will be mix of torpedoes and missiles.

They will have vertical launch system (VLS) to enable them to carry multiple Brahmos supersonic cruise missiles, making them fully capable of anti-surface (land attack) and anti-ship warfare missions.
Indian Navy's Requirement
It wants Project 75 I submarines to be equipped with heavy-duty firepower, having 12 Land Attack Cruise Missiles (LACM) along with Anti-Ship cruise missiles (ASCM). It also wants these submarines to have capacity to carry and launch 18 heavyweight torpedoes in the sea.
Background
P75I project is part of 30-year submarine building plan that ends in 2030. As part of this plan, India seeks to have 24 submarines — 18 conventional submarines and six nuclear-powered submarines (SSNs) in its fleet to manage its area of responsibility stretching from Malacca Straits to the Indian Ocean Region (IOR) and for effective deterrence. Indian Navy is looking to build its assets to consolidate its supremacy in strategically important IOR where Chinese Navy also operates.
Indian Navy has fleet of more than 100 submarines and surface warships. It currently possesses 14 conventional submarines, including Scorpene. But only half are operational at any given point of time. India Navy also has two nuclear-powered submarines INS Arihant (SSBN, a ballistic missile submarine) and INS Chakra (SSN, a nuclear-powered one) leased from Russia.
Recently, in March 2019 India had sealed a US $3 billion deal with Russia for leasing of nuclear-powered attack submarine (INS Chakra III) for Indian Navy for a period of 10 years. Under this deal, Russia will have to deliver Chakra III, an Akula class submarine, to Indian Navy by 2025. It will be third Russian submarine to be leased to Indian Navy.