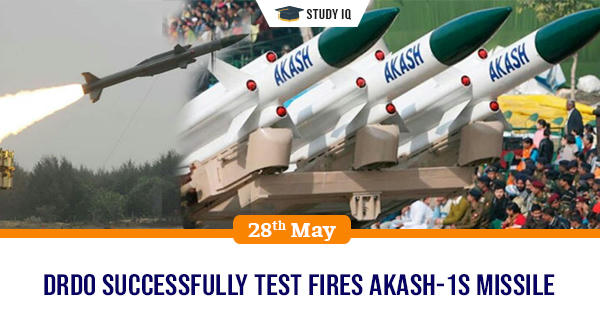 DRDO successfully test fires Akash-1S missile
Date: 28 May 2019
Tags: Defence & Security
Defence Research and Development Organisation (DRDO) successfully test fired Akash-1S surface to air defence missile system. It is new version of Akash surface to air defence missile system with new indigenously-developed seeker which has combination of both command guidance and active terminal seeker guidance. It was test-fired in Balasore off the Odisha coast. It was second successful test of missile in last two days as successful test was done by DRDO.
Akash missile
It is medium range Surface to Air Missile with multi-target engagement capability. It was developed as part of Integrated Guided-Missile Development Programme (IGMDP) other than Nag, Agni, Trishul, and Prithvi missiles.

Features:

It is supersonic missile having range of around 25 km to 30 km and up to altitude of 18,000m. It uses high-energy solid propellant for booster and ramjet-rocket propulsion for sustainer phase.

It is highly mobile and is guided by phased array fire control radar called 'Rajendra' which is termed as Battery Level Radar (BLR) with tracking range of about 60 km.

Capability:

It can neutralise aerial targets such as fighter jets, cruise missiles and air-to-surface missiles as well as ballistic missiles.

Variants:

Several of its variants are Akash-1S, Akash MK1, Akash-MK2 which have improved accuracy and higher. These variants are under development by DRDO.

Akash-1S is capable of striking down enemy fighter jets and drones very accurately and effectively.

Induction:

This missile system was formally inducted into Indian Air Force (IAF) in July 2015, and in Indian Army in May 2015. In September 2016, Defence Acquisition Council had cleared seven additional squadrons of the missile for IAF.