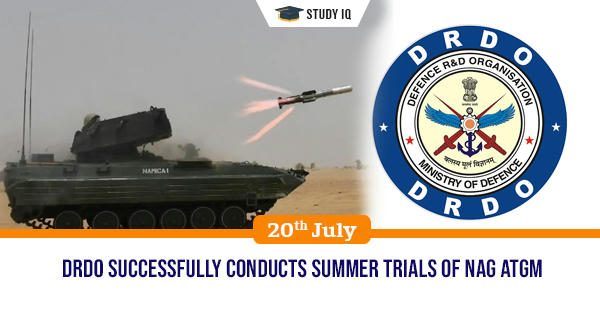 DRDO successfully conducts summer trials of NAG ATGM
Date: 20 July 2019
Tags: Defence & Security
Defence Research Development Oragnisation (DRDO) successfully test-fired Nag Anti-Tank Guided Missile (ATGM) multiple times at Pokhran Field Firing ranges in Rajasthan. It was summer user trials of NAG missile in which it was test-fired around 12 times during 11-day period. During test all missiles met mission objectives including minimum and maximum ranges, direct attack as well as top attack modes and achieved a direct hit onto the target.
About Nag Missile
It is third generation anti-tank guided missile (ATGM).

It is one of five missile systems indigenously developed by DRDO under integrated guided missile development programme (IGMDP). The other four missiles are Agni, Akash, Prithvi and Trishul.

Features:

It works on "fire and forget" principle. It has operational range of 7-10km (when air-launched) and 500m to 4km (land version). It also possesses advanced passive homing guidance system.

It is equipped with advanced Imaging Infrared Radar (IRR) seeker along with integrated avionics. This technology is being possessed by very few countries.

It has been designed mainly to destroy modern main battle tanks and other heavily armoured targets in all weather conditions with day and night capabilities.

It is launched from the NAG missile carrier (NAMICA) which is capable of carrying up to six combat missiles. It can also be launched from land and air-based platforms.

Its successful induction into Indian Army is expected to give quantum boost to Army's capability against enemy armour.