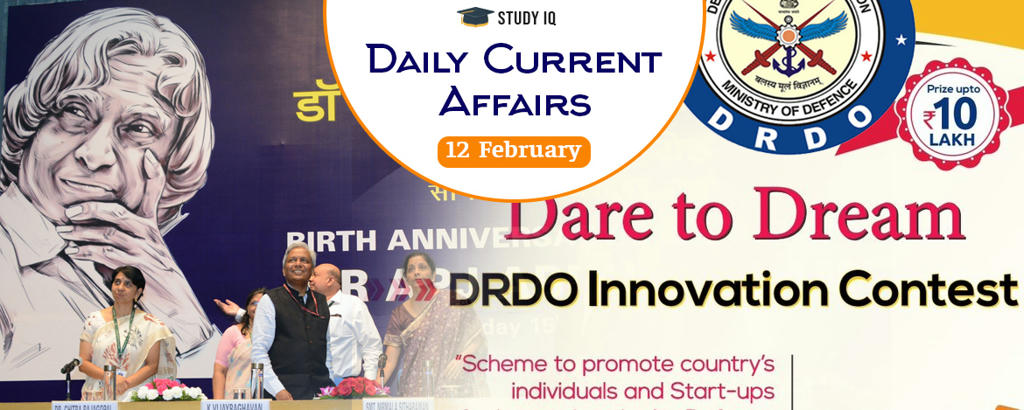 DRDO launches Dare to Dream contest
Date: 12 February 2019
Tags: Miscellaneous
Defence Research and Development Organisation (DRDO) has launched 'Dare to Dream' contest to encourage startups and individuals to come up with innovative defence and aerospace technologies. In April 2019, Union Ministry of Defence had launched similar constest Innovation for Defence Excellence (iDEX) aimed at financially supporting innovators from among small- and medium-sized industries, individuals, startups, and institutes.
Dare to Dream contest
Its objective is to unearth disruptive ideas and concepts in emerging technologies identified by DRDO for enhancing defence capabilities.

For it applicants are invited to send innovative, workable proposals that can impact various related domains and specified areas.

The areas of the contest are Artificial Intelligence, Autonomous Systems, Cybersecurity, Hypersonic Technologies, Smart Materials, Quantum Computing, and Soldier as System.

The entries received will be judged by two stage process, firstly it will be screened by Domain Expert Committee and by short-listing and ranking by independent expert committee.

The winning entries, which should specify plan of executing it into prototype, will get one of five prizes ranging from Rs. 3 to 10 lakh in two separate categories (Individual and Start-up).
Defence Research and Development Organization (DRDO)
DRDO is India's premier organization for research related to country's defence technology. It is under administrative control if Ministry of Defence.

It is largest and most diverse research organization in India. It was established in 1958 and it is headquartered New Delhi.

Motto:

"Strength's Origin is in Science".

Network: It has network of 52 laboratories engaged in developing defence technologies covering various fields, like aeronautics, armaments, electronics, land combat engineering, life sciences, materials, missiles, and naval systems etc.

Functions:

It is charged with defence research and development. It also advises government on scientific aspects of military equipment and equipment, research, design and development plans.

Achievements:

It has indigenously developed many advanced defense systems. It has acquired expertise in a broad spectrum of defense technologies.