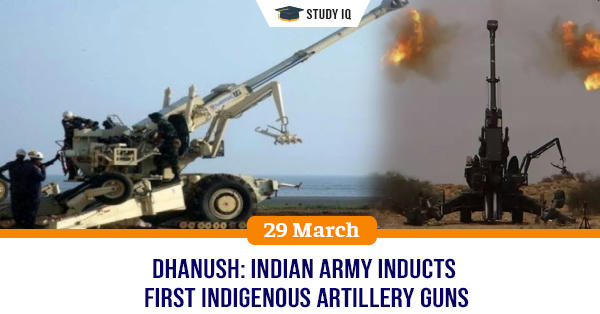 Dhanush: Indian Army inducts first indigenous artillery guns
Date: 29 March 2019
Tags: Defence & Security
Indian Army has inducted first indigenously manufactured 155mm x 45mm calibre Dhanush Howitzer artillery guns. It will be third type of artillery gun to be inducted into Indian Army after K-9 Vajra and the M-777 ultra-light howitzers in recent times after Bofors artillery was inducted in 1980s.The induction comes after Dhanush was tested to withstand extreme conditions like rainfall and snow, and have also been built for use in multiple terrains, from plains, to sand and especially in hilly areas. Indian Army had placed bulk order for 110 Dhanus artillery guns with Ordnance Factory.
Dhanush Artillery Gun
It is first indigenous 155 mm x 45 calibre long-range artillery guns developed by Ordnance Factory Board (OFB), Kolkata based on requirements of Indian Army.

It is also called desi Bofors as it is upgraded version of Swedish 155-mm Bofors howitzers, which India procured in mid-1980s, based on its original designs.

It far more technologically superior to Bofors due to modifications made to the barrel to help improve its accuracy.

It has been electronically upgraded to enhance its firing accuracies, laying speeds and compatibility with various kinds of ammo as.

Its armament system comprises barrel, breech mechanism, muzzle brake and recoil mechanism to fire 155 mm calibre ammunitions.

It require crew of six to eight artillerymen and is capable of firing eight rounds per minutes.

It has strike range of 38 kilometres (11 km more than imported Bofors guns) with high accuracy and precision. Depending on type of ammunition used it can provide greater fire power.

It is equipped with inertial navigation-based sighting system, on-board ballistic computation, auto-laying facility and advanced day and night direct firing system.

It can accommodate both boll bags and bi-modular charge system (BMCS) which have resulted in increasing range.

It has advanced day and night direct firing system. It is capable of firing projectiles at relatively higher angle with a steep angle of descent.

It has several significant advance features including all-electric drive, high mobility, quick deployability, auxiliary power mode, advanced communication system and automated command and control system.

It has six round magazine as compared to standard three round. It weighs slightly more than normal artillery guns due to larger chamber. It has been mechanically upgraded to fire standard NATO 155 mm ammunition.