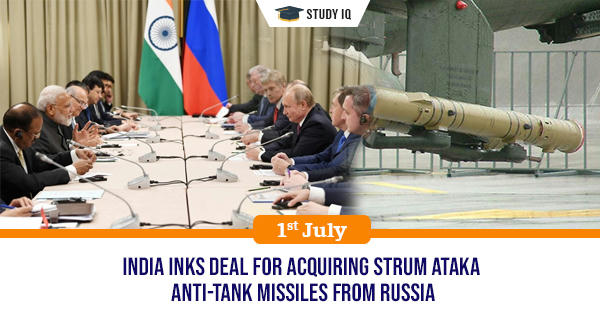 India inks deal for acquiring Strum Ataka anti-tank missiles from Russia
Date: 01 July 2019
Tags: Defence & Security
Indian Air Force (IAF) has inked Rs 200 crore defence deal with Russia for procuring 'Strum Ataka' anti-tank missile. The deal was signed under emergency provisions (Special Financial Powers) to equip IAF's existing fleet of Mi-35 attack choppers with more lethal weapons to keep them battle-ready in situations like the one post-Balakot aerial strikes. This missile will significantly enhance Mi-35 helicopters' capability to take out enemy tanks and other armoured elements.
Strum Ataka anti-tank missile
Special Financial Powers
Following the Pulwama attack, Union Government had granted emergency powers to three services to procure weapons and military hardware to enhance their operational preparedness along border with Pakistan. It empowers three armed services to buy equipment of their choice and and ready for deployment in within three months at a cost of up to Rs 300 crore per case. Government also relaxed certain rules to cut delays in military purchase like allowing the three services to procure required weapons and equipment from a single vendor.
Deals under this Provision: Indian Air Force (IAF) in June 2019 had signed Rs 300 crore deal with Israeli defence firm to procure a batch of 'Spice 2000' guided bombs. Indian Army had also inked a deal for acquiring Spike anti-tank guided missile with France under the emergency provisions.