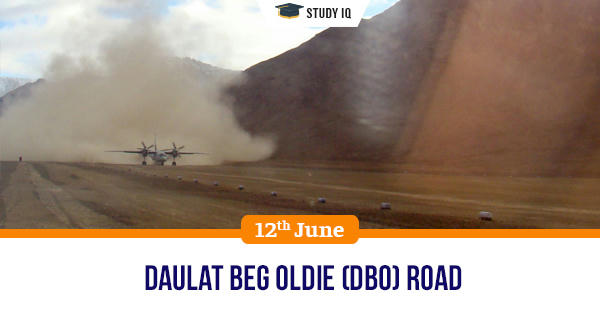 Daulat Beg Oldie (DBO) Road
Date: 12 June 2020
Tags: Miscellaneous
Issue
The construction of the 255-km long Darbuk-Shyokh-Daulat Beg Oldie (DSDBO) all-weather road is possibly the most consequential reason for Chinese aggression in LAC.
Background
Its strategic importance is that it connects Leh to DBO, virtually at the base of the Karakoram Pass that separates China's Xinjiang Autonomous Region from Ladakh.
Details
DBO is the northernmost corner of Indian territory in Ladakh, in the area better known in Army parlance as Sub-Sector North.

DBO has the world's highest airstrip, originally built during the 1962 war but abandoned until 2008, when the Indian Air Force (IAF) revived it as one of its many Advanced Landing Grounds (ALGs) along the LAC, with the landing of an Antonov An-32.

The Chinese build-up along the Galwan River valley region overlooks, and hence poses a direct threat to the DSDBO road.

The DSDBO highway provides the Indian military access to the section of theTibet-Xinjaing highway that passes through Aksai Chin. The road runs almost parallel to the LAC at Aksai China, that China occupied in the 1950s.

To the west of DBO is the region where China abuts Pakistan in the Gilgit-Baltistan area, once a part of the erstwhile Kashmir principality.

This is also the critical region where China is currently constructing the China-Pakistan Economic Corridor (CPEC) in Pakistan-Occupied Kashmir (PoK), to which India has objected.

Previously an old road, largely a track, existed along the same alignment as the pucca road, but was practically unusable during summer due to the flooding of the snow-fed Shyok river – or River of Death – and its tributaries, including the Chip Chap, Galwan, and Chang Chenmo that crisscross it.

The Shyok river itself is a tributary of the Indus, flowing through northern Ladakh and Gilgit-Baltistan. It eventually re-joins the Indus at Keris.