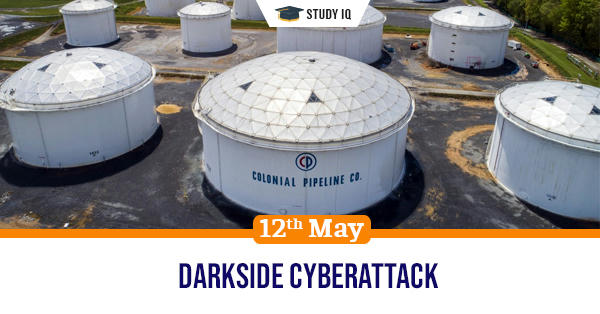 Darkside cyberattack
Date: 12 May 2021
Tags: Miscellaneous
Issue
A ransomware cyberattack on an important oil pipeline has halted supply of oil to eastern part of United States.
Background
The attack took place on the network of Colonial Pipeline Company that has a share of 45 percent of all petrol and diesel consumed on the east coast.
Details
The US federal government has declared an emergency situation and facilitated the movement of petroleum through tankers.

US federal authorities have pointed to a group of hackers known as Darkside for perpetrating the attacks on the oil company.

The hackers downloaded the data on an enterprise network and encrypted them before asking ransom. They have also threatened to leak the data.
Impact of attack on oil prices
The price of Brent crude oil rose to $ 69 per barrel after the attacks on the Colonial Pipeline Company.

There is also belief that prices may increase further due to more consumption during this time of the year.
Handling cyber attacks
The authorities have hinted at employing zero-trust security framework for preventing future disruptions. Any activity done on the network will be suspected.

There are other measures such as Cloud Access Security Brokers that will prevent direct interaction between users and service providers.
Ransom-ware attacks
Ransom-ware is a form of cyberattack in which a malicious program encrypts the files of victims and demands ransom for decrypting those files.