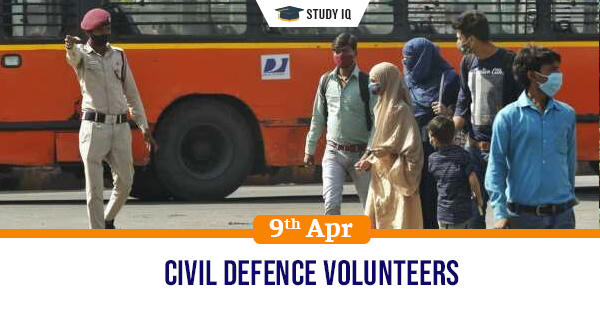 Civil defence volunteers
Date: 09 April 2021
Tags: Miscellaneous
Issue
The role of civil defence volunteers in Delhi have come under pressure for their high handedness in handling public grievances.
Background
Recently, a full blown tussle took place between general public and civil defence volunteers due to arguments.
Details
The Delhi Police has said that civil defence volunteers do not have power to stop people using police barricades and punish them for violation of Covid-19 protocols such as not wearing masks.

Civil defence volunteers are common men and women who work under the leadership of the district magistrates.

They are governed by Civil Defence Act, 1968. When the Disaster Management Act was invoked, the role of these volunteers came into spotlight.
Role of civil defence volunteers
Civil defence is defined as any method that is not actual combat, which protects individuals, property and places in India from hostility.

Their major role is to assist the civil administration when there are not enough active officials to take care of needs of public during extraordinary situation.

These volunteers are made to ensure social distancing in markets and other crowded places and also at vaccination sites. They are also deployed public buses as marshals to ensure safety of women.
Appointment
Any person aged above 18 years with a satisfactory level of educational qualification can apply. Selected candidates have to undergo week-long basic training course, which is sometimes specialised.