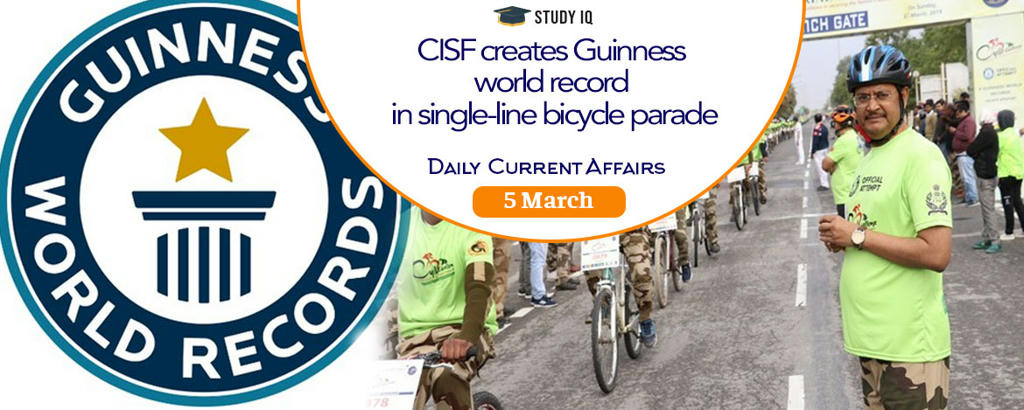 CISF creates Guinness world record in single-line bicycle parade
Date: 05 March 2019
Tags: Miscellaneous
Central Industrial Security Force (CISF) made into Guinness world record by conducting longest single line bicycle parade. The parade was conducted to mark golden jubilee celebrations (50 years) of CISF.
It broke previous record in same field held by Hubballi bicycle club of India, which had conducted rally of 1235 bicycles in single chain formation on 26 January 2109 (Republic Day) in Hubballi, Karnataka
CISF- longest single line bicycle parade
The record was created at the Yamuna Expressway in Noida, Uttar Pradesj when personnel of CISF rode total of one 1327 bicycles non-stop with uniform distance between bicycles in single line. The bicycle parade covered 3.2 km distance non-stop.
About Central Industrial Security Force (CISF)
It is central armed police force under Ministry of Home Affairs. It is headquarters are at New Delhi. Its motto is "Protection and Security".

It was raised on March 10, 1969 under CISF Act, 1968 to protect major PSUs. Later it was converted to armed force with larger ambit by amending CISF Act, 1968 in 1983.

Functions:

It is tasked with providing security to various industrial units, government infrastructure projects and facilities and establishments.

It also provides security to airports, atomic power plants, refineries, major ports, space installations, VIPs and engages in disaster management amongst others.

It has about one lakh 80 thousand personnel in its ranks. It also has its own Fire Wing to response to fire emergencies/accidents.