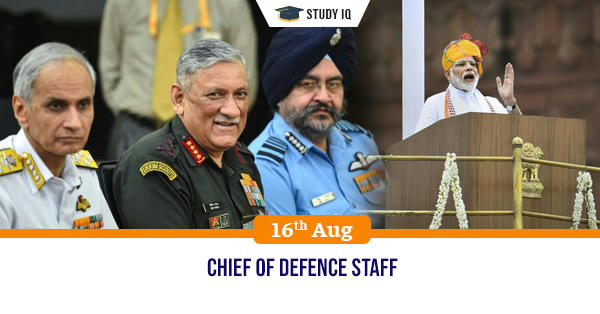 Chief of Defence staff
Date: 16 August 2019
Tags: Policy
Issue
Prime Minister Narendra Modi has announced the creation of the post of Chief of Defence Staff during his speech on the occasion of Independence Day.
Background
As the wars have tended to become short and precise, an individual of high caliber is required who will specialize in functions of all the three wings of Armed forces

The individual will act and an interface between administrative and defence section of our establishment.
Functions of Chief of Defence Staff
Coordinate long-term planning, procurements, training and logistics of the three services

As the stress on resources increases and defence

budgets remain flat, the way forward is optimization of resources by joint planning and training.
Current structure
India has a position known as the Chairman, Chiefs of Staff Committee (CoSC); but its appointment is mostly nominal and does not have significant power. The senior most among the three Service Chiefs is appointed to head the CoSC and the position lapses after retirement of the incumbent.