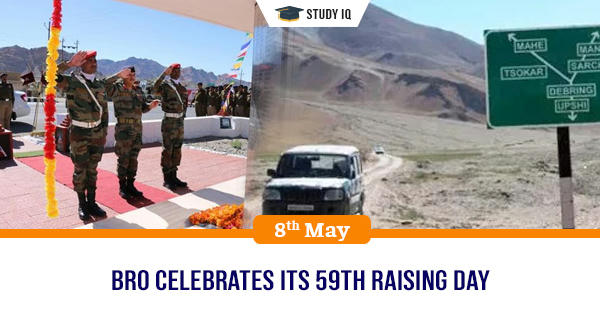 BRO celebrates its 59th Raising Day
Date: 08 May 2019
Tags: Defence & Security
The 59th Raising Day of India's nodal road construction agency Border Roads Organisation (BRO) was observed on May 7, 2019.
Border Roads Organisation
It was established on 7 May 2019 as a nodal road construction agency with objective of developing

means of communication to remote areas of north and north-east.

Mandate:

It is entrusted with development

and maintenance of roads in border areas. It also creates up-grades and maintains critical infrastructure along borders to meet India's overall tactical and strategic goals.

Foreign Countries:

It has also helped to build roads in neighbouring countries such a

s Afghanistan, Bhutan, Myanmmar and Tajikistan.

Parent Organisation:

It came under the control Ministry of Defence in 2015 (earlier it was under Ministry of Home Affairs).

Employees:

It is staffed by officers and troops drawn from Indian Army's Corps of Engineers, Electrical and Mechanical Engineers, Army Service Corps, Military Police and army personnel on extra regimental employment.

Engineering Service and personnel from General Reserve Engineer Force (GREF) forms the parent cadre of BRO.

Current Work:

It operates and maintains over 32,885 kilometres of roads and about 12,200 meters of permanent bridges across the country.