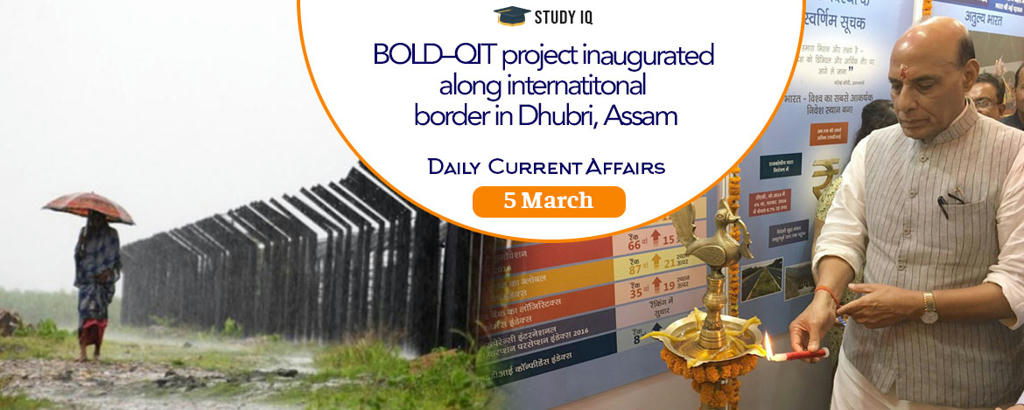 BOLD–QIT project inaugurated along international border in Dhubri, Assam
Date: 05 March 2019
Tags: Defence & Security
BOLD-QIT (Border Electronically Dominated QRT Interception Technique) project was recently inaugurated India-Bangladesh border in Dhubri District, Assam. The project has been implemented by Information and Technology Wing of Border Security Force (BSF) under Comprehensive Integrated Border Management system (CIBMS).
Background
BSF is responsible for safeguarding of 4,096 km long International Border with Bangladesh (longest land border shared by India).

Due to geographical barrier such as riverine stretch and hilly terrain at various places on border, it is not possible to erect border fence.

61 Kms of Border area in Dhubri (where Brahmaputra River enters into Bangladesh) consists vast char lands and innumerable river channels.

This makes border guarding in this area daunting task especially during rainy season.

To overcome this, Home Ministry has launched CIBMS to deploying technologies/ solutions for improved border surveillance, especially in challenging areas where fencing is not possible.

CIBMS is form of integration and deployment of radars, senors, cameras, communication networks and control solutions.
BOLD-QIT Project
Under it, technical systems are installed which enables BSF to equip Indo-Bangla borders with different kind of sensors in unfenced riverine area of Brahmaputra and its tributaries.

These sensors are connected to data network (Microwave communication, OFC Cables, DMR Communication) along with day and night surveillance cameras and intrusion detection system.

The network provides feeds to BSF Control Rooms on Border and enable BSF Quick Reaction Teams to thwart any possibility of illegal Cross Border Crossing/ Crimes.

Significance:

It will provide technological solution besides physical presence of manpower of BSF.

Its implementation now has covered entire span of River Brahmaputra.

It will help BSF to curb all type of cross border crimes and provide respite to the troops from round the clock human surveillance.