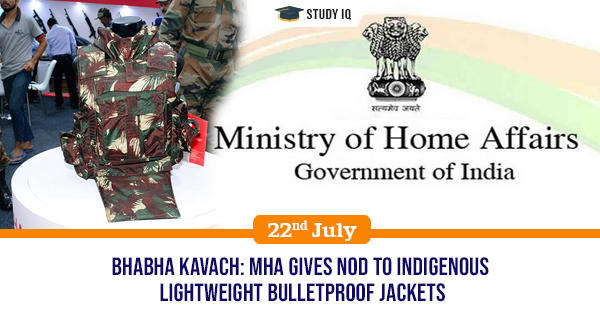 Bhabha Kavach: MHA gives nod to indigenous lightweight bulletproof jackets
Date: 22 July 2019
Tags: Defence & Security
Union Ministry of Home Affairs (MHA) has given its approval to allow use of indigenously developed lightweight bullet proof jacket Bhabha Kavach by Central paramilitary forces. It was launched on the sidelines of International Police Expo 2019 held at Pragati Maidan, New Delhi.
About Bhabha Kavach
It is next generation bulletproof jacket indigenously developed by Ordnance Factory Board (OFB) and Mishra Dhatu Nigam Limited (MIDHANI) with transfer of carbon-nanomaterial technology from Bhabha Atomic Research Centre (BARC). It is named after Dr. Homi J. Bhabha, father of Indian nuclear programme.
Materials used: It is made from layers of high-density, high-tenacity polyethelene, which are thermo-sealed (fused together at high temperature) to form thick, hard armour plate. It is also sprayed with BARC's carbon nanomaterial, which instills toughness and tenacity needed to slow down and trap bullet as it passes through plate.
Features: It weighs just 9.2 kg, nearly 50% less as compared to presently used heavy steel-armoured jackets that weigh between 14kg to 17kg.It has four hard armour plates which offers 360 degree protection to wearer from front, back and either side.
Benefits: It is lighter, sturdier and more reliable. It can withstand eight 7.62mm bullets fired from AK-47 rifle from distance of 5-10 metres, 5.56mm bullet of Indian Small Arms System (INSAS). It has achieved highest protection level of NIJ III+ (National Institute of Justice Ballistic Levels Protection Level III). It also has 5 year warranty. It is also cost effective as compared to imported bulletproof jackets.