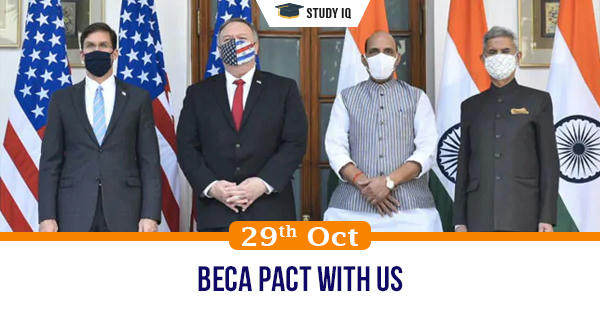 BECA pact with US
Date: 29 October 2020
Tags: Miscellaneous
Issue
India and the United States signed the Basic Exchange and Cooperation Agreement (BECA), which is the third foundational pact for military cooperation.
Background
India had earlier signed the Logistics Exchange Memorandum of Agreement (LEMOA) and the Communications Compatibility and Security Agreement (COMCASA).
Details
BECA will help India get real-time access to American geospatial intelligence that will enhance the accuracy of automated systems and weapons like missiles and armed drones.

Through the sharing of information on maps and satellite images, it will help India access topographical and aeronautical data, and advanced products that will aid in navigation and targeting.

This could be key to Air Force-to-Air Force cooperation between India and the US. BECA will provide Indian military systems with a high-quality GPS to navigate missiles with real-time intelligence to precisely target the adversary.

Besides the sailing of ships, flying of aircraft, fighting of wars, and location of targets, geospatial intelligence is also critical to the response to natural disasters.

The strengthening of the mechanisms of cooperation between the two militaries must be seen in the context of an increasingly aggressive China, which threatens a large number of countries in its neighbourhood and beyond.

While LEMOA means one partner trusts the other enough to expose its valuable assets, COMCASA means one is confident that it can rely on encrypted systems to connect the two militaries.

And the latest pact, BECA, means the countries can share highly classified information in real time without fear of being compromised.
LEMOA
LEMOA was the first of the three pacts to be signed in August 2016. LEMOA allows the militaries of the US and India to replenish from each other's bases, and access supplies, spare parts, and services from each other's land facilities, air bases, and ports, which can then be reimbursed.

LEMOA is extremely useful for India-US Navy-to-Navy cooperation, since the two countries are cooperating closely in the Indo-Pacific.

The signing of LEMOA was in itself an affirmation of the mutual trust between the two militaries, and its application will enhance the trust.
COMCASA
The pact allows the US to provide India with its encrypted communications equipment and systems so that Indian and US military commanders, and the aircraft and ships of the two countries, can communicate through secure networks during times of both peace and war.

The signing of COMCASA paved the way for the transfer of communication security equipment from the US to India to facilitate "interoperability" between their forces — and potentially with other militaries that use US-origin systems for secure data links.