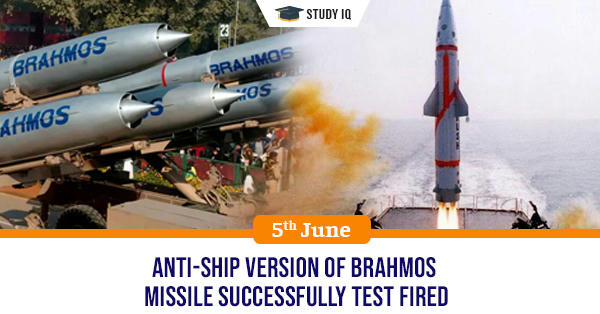 Anti-ship version of BrahMos missile successfully test fired
Date: 05 June 2019
Tags: Defence & Security
An Anti-ship version of supersonic cruise missile BrahMos was successfully test fired from the Integrated Test Range (ITR) at Chandipur in Odisha. The test was conducted by Defence Research and Development (DRDO). It was launched from complex-3 of the ITR,
About BrahMos Missile
It is joint venture between India (DRDO) and Russia (NIPOM). It is named after India's Brahmaputra and Russia's Moscowa rivers.

It is two-stage cruise missile, the first being solid and second one ramjet liquid propellant. It is self-propelled guided missile i.e. it can sustain its flight through aerodynamic lift.

It is capable of being launched from land, sea (submarines), sub-sea (ships) and air against surface (land), aerial and sea-based targets.

It can carry warhead of 300 kgs (both conventional as well as nuclear). It operates on 'fire and forget principal' and has strike accuracy rate of 99.99%.

It has top supersonic speed of Mach 2.8 to 3 (roughly three times speed of sound), making it world's fastest anti-ship cruise missile in operation.

Its range was initially capped at 290 km under obligations of Missile Technology Control Regime (MTCR). But, now it has been extended beyond 450 km after India's entry into MTCR.

Its land and sea variants are already operational with Indian Army, Air Force and Navy and air-launched version is under development for Indian Air Force.