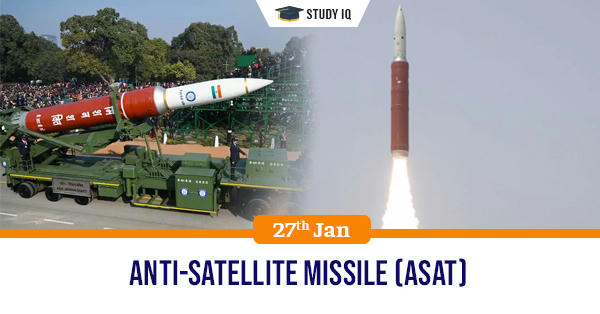 Anti-Satellite missile (ASAT)
Date: 27 January 2020
Tags: Tackling Security Threats
Issue
India showcased its Anti-Satellite (ASAT) missile capability to the world as the ASAT weapon from Mission Shakthi was unveilled on Republic Day.
Background
A DRDO marching contingent displayed the ASAT missile along with a second equipment, the Air Defence Tactical Control Radar (ADTCR).
Details
Anti-satellite weapons (ASAT) are space weapons designed to incapacitate or destroy satellites for strategic military purposes. Several nations possess operational ASAT systems.

Although no ASAT system has yet been utilised in warfare, a few nations have shot down their own satellites to demonstrate their ASAT capabilities in a show of force. Only the United States, Russia, China, and India have demonstrated this capability successfully.
Mission Shakti
India conducted Mission Shakti, an anti-satellite missile test, from the Dr. A P J Abdul Kalam Island launch complex. This was a technological mission carried out by DRDO. The satellite used in the mission was one of India's existing satellites operating in lower orbit.

The significance of the test is that India has tested and successfully demonstrated its capability to interdict and intercept a satellite in outer space based on complete indigenous technology.

The capability achieved through the Anti-Satellite missile test provides credible deterrence against threats to our growing space-based assets from long range missiles, and proliferation in the types and numbers of missiles.
Weaponisation of space
The principal international Treaty on space is the 1967 Outer Space Treaty. India is a signatory to this treaty, and ratified it in 1982. The Outer Space Treaty prohibits only weapons of mass destruction in outer space, not ordinary weapons.
India supported UNGA resolution 69/32 on No First Placement of Weapons on Outer Space. Equally, India supports the substantive consideration of the issue of Prevention of an Arms Race in Outer Space (PAROS) in the Conference on Disarmament where it has been on the agenda since 1982.