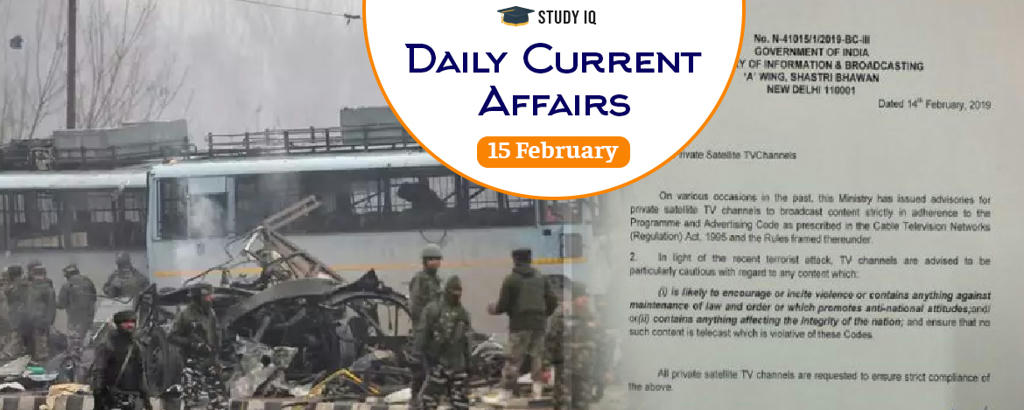 Government issues advisory to TV news channels on Pulwama terror attack
Date: 15 February 2019
Tags: Policy
Union Ministry of Information and Broadcasting has issued advisory to TV news channels for reporting on Pulwama terror attack in Jammu & Kashmir. The advisory was issued under Clause 6 (1) (p) of Programme and Advertising Codes prescribed under Cable Television Networks (Regulation) Act, 1955. This was aimed ensuring that no content is aired that contains anything affecting the integrity of the nation".
Pulwama terror attack
On February 14, 2019, Central Reserve Police Force (CRPF) convoy was attacked by terrorist (suicide bomber), killing 40 security personnel, in Awantipora, Pulwama district of Jammu and Kashmir.

The attack was undertaken by Adil Ahmed, resident of J&K with explosive-laden vehicle into one of buses of the convoy of the security forces.

Pakistan-based terror outfit, Jaish-e-Mohammed (JeM) led by Moulana Mashood Azhar has claimed responsibility for this terror attack.

It was one of the deadliest terror attacks on India's armed forces since Uri airbase attack in 2016.
Programme and Advertising Codes
It was incorporated as part of Cable Television Network Rules, 1994 issued under Cable Television Networks (Regulation) Act, 1995.

It gives Ministry of Information and Broadcasting power to block transmission and re-transmission of any channel in the country. It is binding on all cable networks.

It has been taken from Content code governing All India Radio (AIR) which has been framed around restrictions to free speech under 19 (2) of Constitution.

There are no content-specific laws or binding rules for the print media and nor they require licence to publish a newspaper.
Clause 6 (1) (p) of this Code
It prohibits live coverage of anti-terrorist operation carried out by security forces. It was introduced by amendment to Cable Television Network Rules in 2014 by Central Government in March 2015.

According to it, in cases of terror attacks, media coverage will be restricted to periodic briefing by officer designated by appropriate Government till such operation concludes.
Comment
There are no specific laws protecting freedom of the media in India. But journalists and journalism thrive on broader freedom of expression guaranteed under Article 19 (1) (a) of Constitution.

Article 19 (1) (a) gives all citizens right to freedom of speech and expression. However, the first constitutional amendment in 1951 put "reasonable restrictions" on use of Article 19 (1) (a).

The reasonable restrictions to Article 19 (1) (a) mentioned in 19 (2) (i) threat to sovereignty and integrity of India, security of state, public order, friendly relations with foreign states, decency or morality or in relation to contempt of court, defamation or incitement to offence.