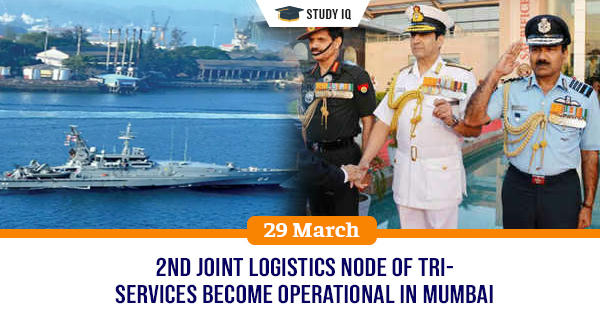 2nd joint logistics node of tri-services become operational in Mumbai
Date: 29 March 2019
Tags: Defence & Security
The second joint logistics node of tri-services has become operational at Naval base in Mumbai, Maharashtra. It will provide logistical support to all three defence services and improve utilisation of resources, manpower and remove duplication. The first JLN consisting of the three services was set up at Andaman and Nicobar Islands in 2018. The third logistic node is in process and is likely to come up in Guwahati, Assam and it will only be among Indian Army and Air Force.
Logistics node at Mumbai
It is led by Indian Navy. It will speed up procurement and improve maintenance of military assets

It will be used by three services to procure rations, critical spares, and ammunition for basic weapons like rifles used by Indian Navy, Air Force and Army.

It will give Indian defense forces much-needed advantage against their adversaries, particularly those using the sea route from Pakistan.
Background
Until recently, three armed forces had separate facilities for logistics and maintenance. But there was demand for enhancing inter-operability and synergy among the three services was long standing issue. The first decision in principle to have joint logistical node was taken in 2008. Such nodes were planned in areas where two or more services are located to cater to logistical needs. Government is planning to set up similar nodes at 12 or 13 locations in western and north-eastern sectors in phased manner.
Joint logistics node comprises of three elements
Joint Logistics Command & Control Centre (JLC&CC):

It is overall command organisation,

Tri-services Detachment at Material Organisation (TRIDAMO): It

will meet logistical needs of the armed forces and

Triservices Advanced Detachment (TRISAD):

It is based on mainland and responsible for sending troops and equipment to the nodes.