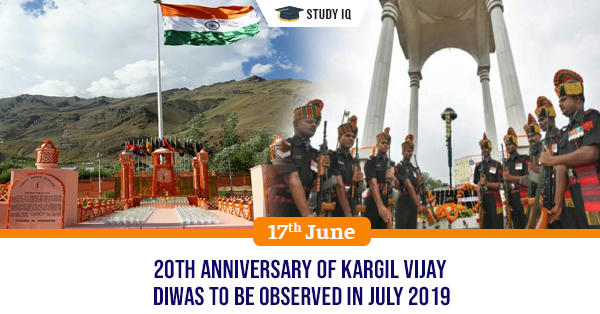 20th anniversary of Kargil Vijay Diwas to be observed in July 2019
Date: 17 June 2019
Tags: Miscellaneous
Indian will celebrate this year 20th anniversary of victory in Kargil war or operation Vijay (also called Kargil Vijay Diwas) for three days from 25 July to 27 July 2019 at Dras (Jammu and Kashmir) and New Delhi. The theme for this year's celebration will be – "Remember, Rejoice and Renew". The objective of these celebrations is to evoke feeling of nationalism and patriotism through nationwide campaigns especially amongst youth and to pay homage to the valiant soldiers.
India-Pakistan Kargil War
It had taken place between May and July of 1999 in Kargil district of Jammu and Kashmir. It was started after infiltration of both Pakistani troops and terrorists deep inside Indian territory in strategic positions that overlooked the only road link between Srinagar and Leh.

The conflict is believed to have been orchestrated by then Pakistan army chief General Pervez Musharraf without knowledge of then Pakistan Prime Minister Nawaz Sharif.

Following this illegal infiltration and occupation of strategic positions, Indian Army had launched "Operation Vijay". It was also supported by Indian Air Force's operation Safed Sagar. It was for first time air power at height of 32,000 feet.

This Indo-Pak is always remembered for its strategic and tactical surprises, self-imposed national strategy of restraint in keeping war limited to Kargil - Siachen Sectors and swiftly executed co-ordinated tri-services military strategy and plans.