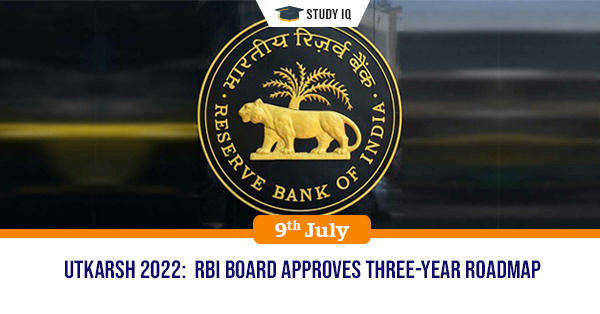 UTKARSH 2022:Â  RBI Board approves three-year roadmap
Date: 09 July 2019
Tags: Banking Schemes & Policies
Reserve Bank of India (RBI) board has finalised three-year roadmap named Utkarsh 2022 to improve regulation and supervision, among other functions of the central bank. The board also approved RBI's budget for the July 2019—June 2020 period. It also discussed other matters including issues related to currency management and payment systems.
Utkarsh 2022
It is three-year road map for medium term objective to be achieved for improving regulation, supervision of the RBI. This medium term strategy is in line with global central banks' plan to strengthen the regulatory and supervisory mechanism.
Background
Worldwide, all central banks are strengthening their regulatory and supervisory mechanism. They are also formulating long-term plan and medium-term plan. So, RBI has also decided it will formulate a pragramme to outline what is to be achieved in the next three years. In this regard, it had formed internal committee, which was anchored by outgoing Deputy Governor Viral Acharya, to identify issues that needed to be addressed over the next three years.