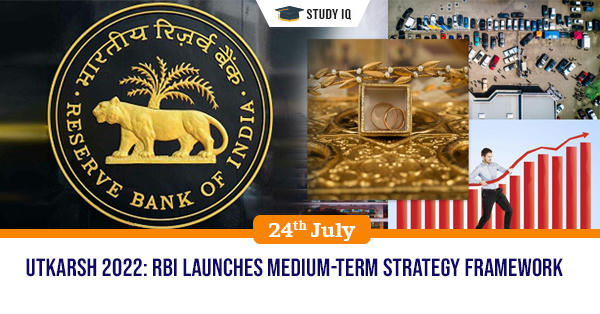 Utkarsh 2022: RBI launches medium-term strategy framework
Date: 24 July 2019
Tags: Banking Schemes & Policies
Reserve Bank of India (RBI) launched its medium- term strategy framework Utkarsh 2022 aimed at achieving excellence in performance of RBI's mandates and strengthening trust of citizens and other institutions. It has been launched in line with evolving macro-economic environment. It contains, inter alia, RBI's Mission, Core Purpose, Values and Vision Statements, reiterating the Bank's commitment to the Nation
Utkarsh 2022 set out the following:
Excellence in performance of statutory and other functions.

Strengthened trust of citizens and other Institutions in the RBI.

Enhanced relevance and significance in national and global roles.

Transparent, accountable and ethics-driven internal governance.

Best-in-class and environment friendly digital as well as physical infrastructure.

Innovative, dynamic and skilled human resources.
Utkarsh 2022 is mutually reinforcing and will guide RBI during medium- term period (2019-22) through various strategies. The purpose of its strategies is to capitalise on emerging opportunities and meet challenges of the future. Its implementation and progress will be periodically monitored through a sub-committee of the Central Board.