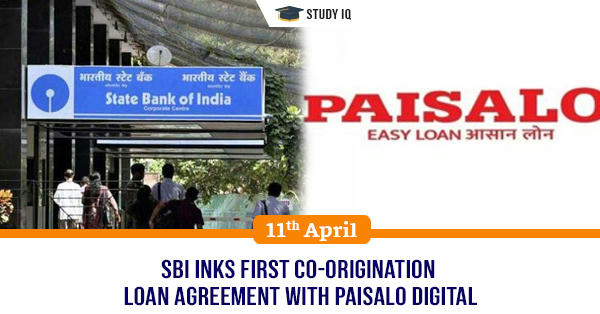 SBI inks first co-origination loan agreement with Paisalo Digital
Date: 11 April 2019
Tags: Banking Schemes & Policies
PAISALO Digital Limited signed first co-origination loan agreement with State Bank of India (SBI). It is the first agreement of its kind in the country that has been signed SBI. The agreement was signed with vision of empowering the AGRI, MSME segment and small businesses.
Under this co-origination, SBI and PAISALO intends to enable customers to reach us with ease and use it for smooth loan disbursal and repayment easily. Its platform will cater needs to last mile customer. The loan ticket designed under it has is at Rs 10,000 to 2 lakh.
PAISALO Digital Limited
It is leading systemically important non-deposit taking NBFC registered with Reserve Bank of India. It is in operations since 1992.

It has AUM of over Rs. 2,000 Crore with a net worth of Rs. 671.9 Crore and CAR of 31.73% as on Q3FY19.

It has over 2,50,000 live borrowers and so far has serviced nearly 10,00,000 borrowers. It serves customers with 118 branches in rural areas.

Its business operations are in Uttar Pradesh, Maharashtra, Himachal Pradesh, Gujarat, Rajasthan, Delhi, Haryana, Punjab, Uttarakhand and Bihar.