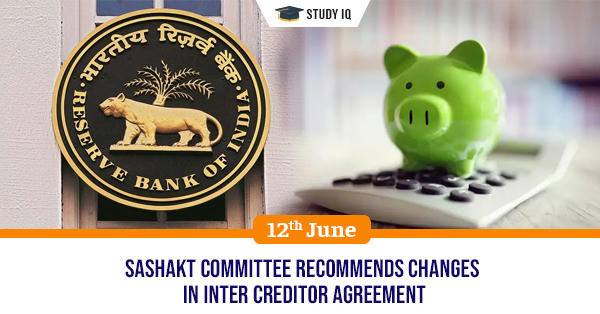 Sashakt Committee recommends changes in Inter Creditor Agreement
Date: 12 June 2019
Tags: Banking Committees
The Sashakt Committee has recommended changes in existing Inter-Creditor Agreement (ICA) to incorporate revised voting threshold and other changes for decision making stipulated by Reserve Bank of India (RBI). The purpose these changes are to enable expeditious implementation of the new framework on stressed assets.
New RBI Framework
RBI had recently issued revised guidelines for resolution of stressed assets. It applies to all banks, term financial institutions (FIs), small finance banks (SFBs), systemically important non-deposit taking non-banking finance companies (NBFCs) as well as deposit taking NBFCs.

Under this new framework, it is mandatory requirement for lenders to enter into Inter-Creditor Agreement (ICA) during review of the borrower account within 30 days from date of first default to any lender.

It also further lays down some parameters to be included in ICA including decision-making by lenders holding 75

%

(by value of total outstanding facilities) and 60

%

by number and protection of dissenting lenders.

ICA is required to be executed by all lenders covered under the New Framework and asset reconstruction companies.
About Sashakt Committee
It was constituted by Central Government in 2018 to resolve issues of Non Performing Assets (NPAs). It is headed by Punjab National Bank (PNB) non-executive Chairman Sunil Mehta

Members:

Rajnish Kumar (State Bank of India Chairman), S. Jayakumar (Bank of Baroda Chief Executive) and Venkat Nageswar (SBI Deputy Managing Director).

It recommended the bank-led resolution approach in the form of inter-creditor agreement (ICA) for resolution of stressed asssets. It was executed by 35 banks and financial institutions.

ICA aims at faster facilitation of resolution of stressed assets. It is aimed at resolution of loan accounts withsize of Rs. 50 crore and above that are under control of group of lenders. Its purpose is to reduce disagreement among joint lenders in resolution of bad loans.
Recommendations
Bad loans of up to Rs 50 crore should be managed at bank level, with deadline of 90 days.

Bad loans ranging Rs 50-500 crore, banks should enter into an ICA, authorising lead bank to implement resolution plan in 180 days or refer the case to National Company Law Tribunal (NCLT).

Bad loans above Rs 500 crore, the resolution should be through independent asset management company (AMC) supported by institutional funding through an Alternative Investment Fund (AIF).