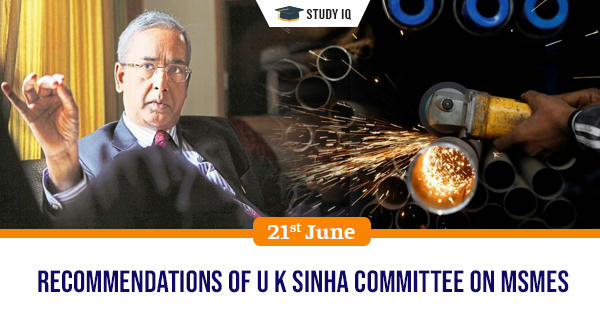 Recommendations of U K Sinha Committee on MSMEs
Date: 21 June 2019
Tags: Banking Committees
Eight-member U K Sinha Expert Committee on Micro, Small and Medium Enterprises (MSME) has submitted its report to the Governor of the Reserve Bank of India (RBI). This committee was constituted by RBI in January 2019. It has suggested long-term measures for the economic and financial sustainability of the MSME sector.
Recommendations of the Committee
Proposed doubling limit on collateral-free loans to Rs 20 lakh from the current level of Rs 10 lakh to boost the fund requirement of the MSME sector.

Providing loans under Central Government's Mudra Scheme as working capital and term loans for business enterprises in manufacturing, trading, services and agriculture activities.

Proposed extension of collateral free loans to Self-Help Groups (SHGs).
Background
MSME Sector is backbone of the Indian economy and contributes 45% to the manufacturing sector's output and 40% to nation's exports. It is second largest employment generating sector after agriculture sector. It provides 80% of jobs in industry with just 20% of investment. MSMEs are facing server problem of non-availability of credit at reasonable interest rates. Banks are averse at lending to MSMEs because of high-risk perception. They have been insisting on collaterals which are not easily available with MSMEs.
Pradhan Mantri Mudra Yojana
It was launched by Cental Government in 2015 to loan up to 10 lakh to the non-corporate, non-farm small/micro enterprises engaged in manufacturing, trading and Services sector including allied agricultural activities.

The loans under it are offered through commercial banks and financial institutions (RRBs, Small Finance Banks, Cooperative Banks, MFIs and NBFCs) refinanced through the Micro Units Development and Refinance Agency (MUDRA) Bank.

Mudra loans are provided to eligble enterpriese under three categories: (i) Shishu: up to Rs 50,000. (ii) Kishore: loans between Rs 50,001-Rs 5 lakh. (ii) Tarun: Loans between Rs 5,00,001 and Rs 10 lakh category.