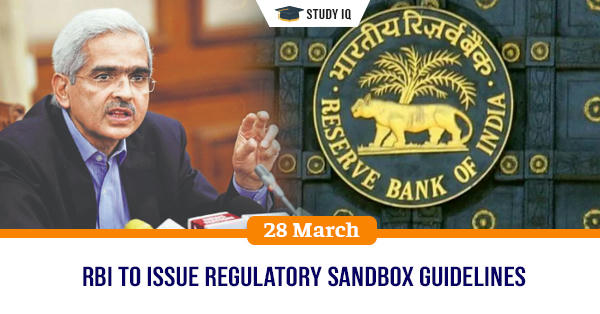 RBI to issue Regulatory Sandbox guidelines
Date: 28 March 2019
Tags: Banking Laws & Regulations
Reserve Bank of India (RBI) soon will soon issue guidelines regarding regulatory Sandbox for fintech companies to test their new products and services on the small group of people before expanding and scaling it. It was announced by RBI Governor Shaktikanta Das.
What is regulatory Sandbox?
It is regulatory framework that allows financial technology (FinTech) companies to test their products in closed environment or in a particular geography or among set of users under regulator supervision (in this case RBI), before they are allowed roll out commercially meeting all regulations.
Benefits
It enables fintech companies to launch innovative products at lower costs in less time. It also enables them to do virtual testing of their new products and services. It allows these companies to test the viability of the product without any expensive methods. It helps them to test their innovative products in well-defined space and also help them to analyze consequences of reasons for failure and their containment.
Background
India is one of the fastest growing financial technology markets across the globe, and the industry research has now projected around $1 trillion and small and medium-sized enterprises credit will be digitally disbursed by the end of 2025.
In 2017, RBI's working group on FinTech and digital banking also had recommended introduction of regulatory sandbox/innovation hub within a well-defined space and duration to experiment with FinTech solutions.