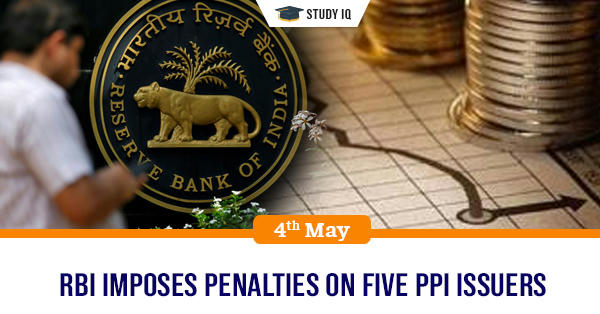 RBI imposes penalties on five PPI issuers
Date: 04 May 2019
Tags: Banking Laws & Regulations
Reserve Bank of India (RBI) has imposed penalties on five prepaid payment instrument (PPI) issuers for violating regulatory norms under provisions of Payment and Settlement Systems Act, 2007. It includes Vodafone's m-pesa, , My Mobile Payments Limited which own Oxigen, Flipkart's PhonePe, Y-Cash Software Solutions Private Limited which owns YPayCash and GI Technology Private Limited.
Reasons for imposition of penalty
The penalty was imposed by RBI in exercise of powers vested under Section 30 of Payment and Settlement Systems Act, 2007 and for violating regulatory norms enshrined in this provision.
Section 30 of the Payment and Settlement Systems Act, 2007
It mandates every system provider to disclose to existing or potential system participants, the terms and conditions including charges and limitations of liability under payment system. It also mandates them to supply participants with copies of rules and regulations governing operation of payment system, netting arrangements and other relevant documents.
This means that all payment parties need to be privy to full disclosure about conditions and potential risks involved in any payment system.
It also states that payment obligations and settlement instructions among system participants shall be determined in accordance with gross or netting procedure asapproved by RBI at the time of giving authorization to the payment system.
Prepaid Payment Instrument (PPI)
It is instrument that facilitates purchase of goods and services, including financial services, remittance facilities, etc., against value stored on such instruments. The value stored on such instrument represents value paid for by holder, by debit, by cash to bank account or by credit card. Prepaid instrument can be issued as smart cards, internet accounts, magnetic stripe cards, internet wallets, mobile accounts, mobile wallets, paper vouchers and any of instruments used to access the prepaid amount.
PI issuer: It is entity operating or participating in payment system for issuing PPIs to individuals or organisations. The money collected is used by entity to make payment to merchants.
PPI Holder: It is individual/organisation who obtains or purchases PPI from PPI issuer and uses same for purchase of goods and services.