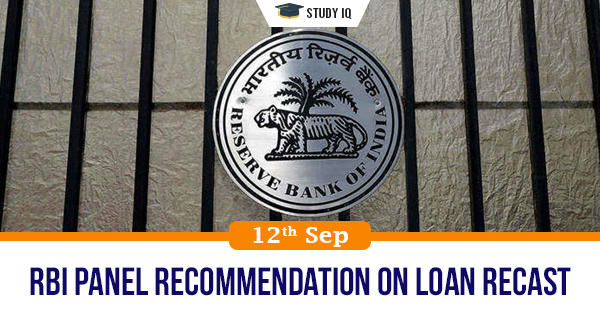 RBI panel recommendation on loan recast
Date: 12 September 2020
Tags: Monetary Policy & RBI
Issue
A five-member expert committee headed by K V Kamath, recently came out with recommendations on the financial parameters required for a one-time loan restructuring window for corporate borrowers under stress due to the pandemic.
Background
Restructuring announcements in the past had raised concerns about the efficacy of the restructuring mechanism, as most of the restructured assets eventually slipped into NPAs.
Details
The committee was tasked to recommend the sector-specific benchmark ranges for financial parameters to be factored into each resolution plan for borrowers with an aggregate exposure of Rs 1,500 crore or above at the time of invocation.

The process and conditions are being announced to ensure there is no evergreening of bad loans, and only genuine cases directly hit by Covid-19 stress are provided the facility of one-time restructuring.

The programme is being implemented as a six-month moratorium on repayments ended on August 31 and the economy faced contraction amid a continuing lockdown in several states.

The Kamath committee noted that corporate sector debt worth Rs 15.52 lakh crore has come under stress after Covid-19 hit India, while another Rs 22.20 lakh crore was already under stress before the pandemic.

This effectively means Rs 37.72 crore (72% of the banking sector debt to industry) remains under stress. This is almost 37% of the total non-food bank credit.

The Kamath panel has said companies in sectors such as retail trade, wholesale trade, roads, and textiles are facing stress. Sectors that have been under stress pre-COVID include NBFCs, power, steel, real estate, and construction.

The RBI has broadly accepted the committee's recommendation to take into account five financial ratios and sector-specific thresholds for each ratio in respect of 26 sectors while finalising the resolution plans.

Restructuring can be done via the extension of residual tenor by a maximum of two years with or without moratorium and may include conversion of loan into equity.

Any default by the borrower with any of the lenders that signed an ICA during the monitoring period would trigger a review period of 30 days.

If the borrower remains in default at the end of the period, all lenders would downgrade the account as a non-performing asset (NPA).