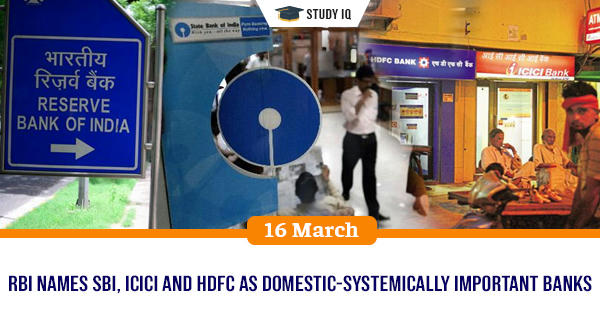 RBI names SBI, ICICI and HDFC as Domestic-Systemically important banks
Date: 16 March 2019
Tags: Basic Concepts, Banking Laws & Regulations
Reserve Bank of India (RBI) has named State Bank of India (SBI), ICICI Bank and HDFC Bank as Domestic Systemically Important Banks (D-SIBs). It means that these banks are too big to fail and failure of any of these banks will have cascading effect on Indian financial system.
What is too big to fail?
Financial entity like bank becomes systemically too important that its failure is expected to disrupt entire financial or banking system and economy as whole. In such event, government steps in to save this bank from failing.
Domestic Systemically Important Banks (D-SIBs)
RBI categorises banks that are too big to fail as Domestic Systemically Important Banks (D-SIBs).
According to RBI, these banks have systemic importance due to their size, complexity, cross-jurisdictional activities, lack of substitutability and interconnectedness.

The failure of these banks can cause significant disruption to essential services provided by banking system and in turn, can disrupt overall economic activity.

Their continued functioning is critical for uninterrupted availability of essential banking services to the economy.

RBI has issued Framework for dealing with D-SIBs in July 2014. This framework requires RBI to disclose names of banks designated as D-SIBs starting from 2015.

It classifies the banks under five buckets depending on order of importance based on their Systemic Importance Scores (SISs).

All the banks under D-SIB are required to maintain higher share of risk-weighted assets as tier-I equity.

Banks in bucket one need to maintain a 0.15% incremental tier-I capital (from April 2018).

Banks in bucket three have to maintain an additional 0.45% incremental tier-I capital. Bucket three being higher than bucket one.

Note:

SBI has been placed in third bucket, whereas ICICI Bank and HDFC Bank are placed in the fifth basket and are considered less important than SBI.
What does D-SIBS inclusion mean for banks?
Banks will get additional protection from RBI in the times of distress. It implies they enjoy sovereign guarantee against its failure.

They will be subjected to higher levels of supervision so as to prevent disruption of financial services in the event of any failure.

These banks will have to maintain core capital requirement in addition to capital conservation buffer.

It gives additional comfort to investors that these banks won't be allowed to fail and therefore, borrowing costs of these banks from markets are cheaper than their peers.
Tradeoff
As these banks won't be allowed to fail during distress due to expectations of government support, it may amplify risk-taking, reduce market discipline, create unnecessary competitive distortions and increases probability of distress in future of these banks.