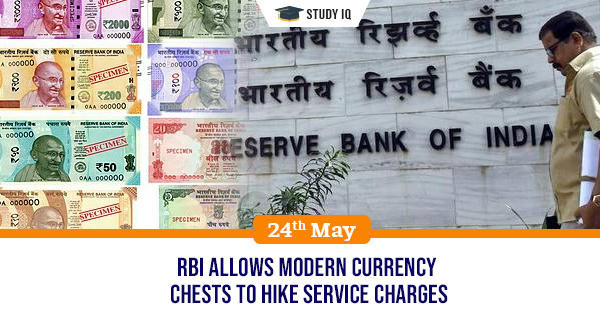 RBI allows modern currency chests to hike service charges
Date: 24 May 2019
Tags: Banking Schemes & Policies
Reserve Bank of India (RBI) will soon allow large modern currency chests to increase service charges on cash deposited by non-chest bank branches from existing rate of Rs.5 per packet of 100 pieces to higher rate subject to maximum of Rs.8 per packet.
Minimum Standards
Those currency chests (CC) that fulfill minimum standards will be only eligible to be classified as a large modern CC. Banks may approach issue office of the RBI under whose jurisdiction CC is located for such classification. The increased rates will be only charged after such classification by issue office concerned.
Currency chest
It is part of bank wherein currency notes and coins are stored. It can be strong room or a vault. When cash is taken out of vault, it becomes cash of bank and it can be used for the payments. RBI on its behalf authorises few selected bank branches to stock rupee notes and coins. It acts as distributives of RBI cash and enable RBI to take back soiled notes and mutilated notes from the public.
RBI offices in various cities receive currency notes from presses and coins from the mints. These are sent to currency chests and small coin depots from where they are distributed to bank branches. RBI has so far set up over 4,075 currency chests all over the country. Besides currency chests there are also around 3,746 bank branches that act as small coin depots to stock small coins.