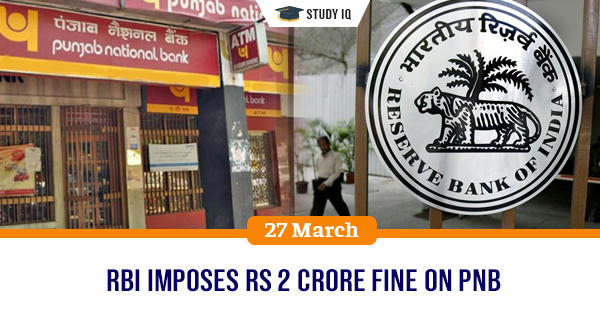 RBI imposes Rs 2 crore fine on PNB
Date: 27 March 2019
Tags: Banking Schemes & Policies
Reserve Bank of India (RBI) has imposed penalty of Rs 2 crore on Punjab National Bank (PNB) for non-compliance of regulatory directions with regard to SWIFT (Society for Worldwide Interbank Financial Telecommunication) operations. The fine was imposed on PNB for violations of regulatory directions observed during assessment of implementation of SWIFT- related operational controls.
Previously, RBI had imposed penalties worth Rs 71 crore on 36 public, private and foreign banks for non-compliance with various directions on implementation and strengthening of SWIFT operations. Some of these banks were SBI, ICICI Bank, HSBC, Bank of Baroda, Citibank, Canara Bank and Yes Bank.
Earlier also PNB was in news over issues of SWIFT system after Rs. 14,000-crore fraud carried out by jewelry designer Nirav Modi and his uncle Mehul Choksi by misusing this global messaging software.
Society for Worldwide Interbank Financial Telecommunication (SWIFT)
It is global messaging software used for sharing information on inter-bank transactions by financial entities.

It provides network that allows banks and other financial institutions worldwide to send and receive information about financial transactions in secure, standardised and reliable environment.

It basically transports financial messages in highly secure way. It does not hold accounts of its members and does not perform any form of clearing or settlement.

Besides it also doesn't facilitate transfer of funds, rather, it only sends payment orders, which needs to be settled by correspondent accounts that institutions have with each other.

Majority of international interbank messages use it. It assigns each financial organization unique code that has either eight characters or 11 characters. The code is interchangeably called bank identifier code (BIC), SWIFT code, SWIFT ID, or ISO 9362 code.